Newletter #5
28 September 2009
2009 Christmas Bird Counts
Cayaya Birding is organizing three Christmas Bird Counts in December 2009: Antigua Guatemala (14 Dec 2009), Atitlan Volcano (16 Dec 2009), and Tikal (21 Dec 2009). Sign up here

In 2008, 48 birders participated at Atitlán Volcano, and 42 in Tikal. Read our reports of the CBC Atitlán Volcano and CBC Tikal.
---
New Birding Hotspots

Laguna Lodge Eco-Resort and Nature Reserve

Rincón Suizo, Cerro Tecpán

Los Andes Reserve

Los Tarrales Reserve Reserve
---
Important Bird Areas
Article on Guatemalan IBAs in the recent issue of Neotropical Birding:

Eisermann, K. & Avendaño, C. (2009) Important Bird Areas of the Neotropics: Guatemala. Neotropical Birding 5: 4-11.

Become a member of the Neotropical Bird Club and receive both journals, Neotropical Birding and Cotinga.
---

eBird Guatemala

eBird Guatemala is an online data storage developed by Cornell Lab of Ornithology and National Audubon Society. Register and keep your personal lists of birds seen in Guatemala. eBird Guatemala enables you to see statistics and graphics of bird records you and others reported. By using eBird you make a valuable contribution to the study and conservation of birds in the Americas.
---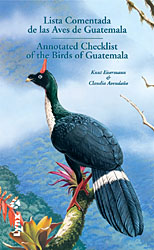 ANNOTATED CHECKLIST OF THE BIRDS OF GUATEMALA
by Knut Eisermann and Claudia Avendaño (Lynx Edicions, 2007, ISBN 84-96553-40-X)

Get yours in your local bookstore or online. In Guatemala it is available in the following stores:

Casa del Conde Bookstore, Antigua (Central Park)
Un Poco de Todo Bookstore, Antigua (Central Park)
Vista Hermosa Bookshop, Guatemala City, 2 Calle 18-50, Vista Hermosa II, zona 15.
Libería Sophos, Guatemala City, Plaza Fontabella, Local 1D 2º Nivel, 4ª avenida 12-59, zona 10.
Souvenir store in the Tarrales Reserve.
Souvenir stores in the visitor's center of TIKAL (next to the Stelae Museum).

---