Trip Report: Rainforest Mangrove Tour, November 30-December 14, 2005
by Juliet Petrencs
Participants: Sabine Werzinger and Annegret Vom Stein, from Germany; Juliet Petrencs, from the United States.
Tour leader in Guatemala: Knut Eisermann.
Introduction
Last summer I decided to go to Guatemala, and began searching for a bird tour. Fortunately, Cayaya Birding had a tour planned with Sabine and Annegret during the Guatemalan dry season, and I joined this tour after three weeks of independent travel in Guatemala and Honduras.
Disclaimer
This report contains some fabrications and exaggerations - see if you can spot them. I will reveal them at the end.
30 November, 2005: Yummy grilled meat and a day of introductions
At the Hotel San Carlos in Zona 10 of Guatemala City, I met Knut, Sabine, Annegret, and Claudia Avendaño. Delightful Claudia had been my main contact with Cayaya Birding, making all the plans for the tour. She assured me that damage from tropical storm Stan would not hinder our itinerary. Knut and Claudia were enthusiastic and charming. We had dinner at a nearby churrasco (grill restaurant), and got to know each other a bit. Annegret and Sabine had arrived the previous day via Frankfurt and Mexico City (24 hours of travel!).
During dinner I learned that Claudia would not be on our tour. She was able to join us for a few dinners, but I missed her! We were stuck with Knut.
Knut, Sabine, and Annegret all are from Germany; I am very grateful to all of them for their excellent use of English while I was around. Like most people from the United States, I can only speak and understand English, although by the end of the tour Habla Español como una niña de dos años.
Also by the end of the tour I grew to like Sabine and Annegret very much! Although we had never met before, we had similar interests, birding skills, physical stamina, and intellects. Everyone had a great sense of humor. I was sad and lonely when I left them.
Early in the trip, Knut explained that Guatemalans could not pronounce his name, and everyone called him either Kennedy or Harry Potter. I thought this was a funny story to entertain us, but no!, it is true! Everyone greeted Knut, with great enthusiasm, as "Kennedy." I won't explain the Harry Potter part, but suffice to say, Do you see any pictures of Knut on the Cayaya website? Use your imagination. We often had to use our own imagination when we could not see the field marks of the swallows and swifts Knut had found! The only thing I will tell you is Knut does not have black hair. Or a scar on his forehead.
A very nice personal touch was that Cayaya Birding gave us each a bound, custom bird list that included a tour summary. The summary included an introduction to the tour participants, a brief rundown of each day's activities, hotels, and included meals. There was a birding checklist with columns for each of the six locations we would visit. Excellent!
1 December, 2005: A jet flight, much climbing and many birds
We got up at o'dark thirty for the 7:00 a.m. flight to Santa Elena, air gateway to the Peten. The flight departed at 9 or 10:00 a.m., or some time after that, which gave us plenty of time to observe Great-tailed Grackles, House Sparrows, and Black Vultures in the gravel parking lot.
We went grocery shopping and then drove to the El Sombrero Lodge, adjacent to Yaxha National Park. On the road we saw Black Vultures eating a road killed Gray Fox. Turning north off the paved highway, we stopped at an overlook and saw the top of the main Yaxha temple on a hill above the forest canopy, and some water birds in a small lagoon, including Black-necked Stilts, Cattle, Snowy, and Great Egrets.
Due to lack of sleep, my memory is dim, but I recall we immediately took a boat across Yaxha lagoon, saw a Bat Falcon, climbed 500 steps (250 stone steps to the Mayan site - another 250 wooden steps up to the plazas and the top of temple 216, really, it's true, we counted them later) and stayed just about until dark. We saw good birds, including close views of Collared Aracaris, Keel-billed Toucans, Olive-throated Parakeet, Black-headed and Violaceous Trogons, Golden-fronted, Lineated and Pale-billed Woodpeckers, Yellow-throated Euphonia, and many Black-and-White Warblers. From the top of the temple we got close views of both Howler and Spider Monkeys. Knut recommended to stay longer, but we did not want to walk down the stairs in the dark, so we made him take us back.
El Sombrero is beautifully situated on the shores of Yaxha lagoon. But be aware, there are 65 steps from the boat dock to the hotel restaurant! Peten may seem flat, but it is not. The lodge is surrounded by forest and cleared land, so there is an excellent variety of habitats for many bird species. On the hotel property we saw Howler Monkeys, Swainson's Thrush, Clay-colored Robins, Chestnut-sided, Magnolia, Black-throated Green, and Hooded Warblers, Black-faced Grosbeak, Masked Tityra, Plain Chacalaca, and more trogons. The accommodations are very rustic. The lodge is off the grid, so the only power is from generators from about 6:00 p.m. (it is dead dark by then!) to about 10:00 p.m. There is no power in the morning. Rooms are duplex cabins, with open ceilings, so you get to hear everything from your neighbors. Water is cold, but there is water for showers, from plumbing, not a bucket. Rooms are open to the air, wood frames with screens for protection against insects. There is a dim light bulb high on the ceiling of the shared duplex hall. On this tour, make sure you bring lots of flashlight batteries and replacement bulbs, especially if you like to read in bed. I ran out quickly, and Sabine (who carries everything with her, all the time, she is a regular supply depot!) replenished my stock. Sabine also carries delicious gummi bears from Germany, much better than anything in the United States. Make sure she is on your tour. The food at the lodge was very good. Gabriella, the manager, is from Italy, so the lodge cooking had some much appreciated Italian accents such as cheese and tomato sauce-- not an easy accomplishment in this remote spot where supplies are hard to come by.
2 December, 2005: more climbing, a Lovely Cotinga, and an aborted crocodile hunt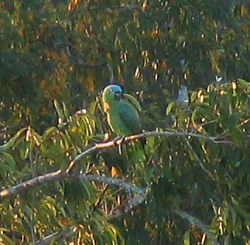 At dawn we took the boat across the lagoon again, and climbed the six million stairs to the top of temple 216. We sat for hours and got great views in the scope of White-crowned and Mealy Parrots, and a close view of a male Summer Tanager. We had a leisurely breakfast packed by the lodge: hardboiled eggs, fruit, and pancakes with Yaxha honey and jam. We dared not open the jam and honey, enclosed in tiny knotted plastic bags, due to fear of ant attacks. Those ants are everywhere, waiting for you and your food. It is a jungle out there. Even without the honey and jam, the food was delicious. Our main course for the morning was the sight of the Lovely Cotinga, male and female, who obligingly perched on a snag.
Gabi met us on top of the temple and gave us a tour of the ruins. She is quite the archeology buff, knows the status of all the excavations, and bantered with the workers and restorers as we passed by.
After lunch and a rest at the lodge, we set out upon the lake once more, searching for water birds. We saw some Belted Kingfishers, Spotted Sandpiper, Killdeer, Collared and Semipalmated Plovers, Greater Yellowlegs, Great Blue, Little Blue, Tricolored and a skulking Bare-throated Tiger-Heron, Mangrove Swallows, Blue-winged Teal, Osprey, and Northern Jacana.
As night approached, we wanted to return to the lodge, but the goal was to see Morelet's Crocodiles. Some of these crocodiles eat people, in fact El Sombrero had the skull of the giant man-eater lying around in the lounge. But we were tired, so we went back to the lodge.
After dinner we walked on the road to look for pauraques and nighthawks. I stalked a pauraque in the road for ten minutes, but upon closer inspection, I found a dead cecropia leaf instead.
3 December, 2005: Survivor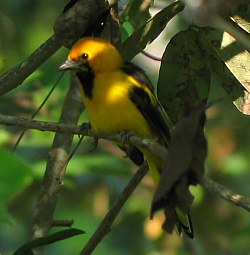 In the morning we staggered around and then traveled by boat to Topoxte, a smaller Mayan settlement on the south shore of the lagoon. It was, here, apparently, that the very stupid North American television series, Survivor: Guatemala, was filmed. The television producers took over the Yaxha National Park for about six months, and no tourists were allowed access. From the boat landing to the archeological site was a bunch of unpromising and boring brush and livestock pasture, no wonderful rainforest and ruins. As usual, these borderline habitats gave us a wealth of bird species, including Barred Antshrike, Gray Catbird, Squirrel Cuckoo, Baltimore and Yellow-tailed Orioles, Great Kiskadee and Boat-billed Flycatcher, and our first look at a Groove-billed Ani.
Thanks to the boatman who knew the terrain and also knew we were crazy bird people, he let down a barbed wire fence and we walked through lake muck, livestock droppings and vicious biting ants to see these birds. Of course, much later, we could see these same birds in more comfortable situations, but it was early in our tour and we wanted to see everything!
Gabi gave us an excellent archeological tour of the Topoxte ruins. Returning across the lake, we made a short side trip to a small pond to look for boat billed herons, but all we found were big turtles. However, the side excursion was not without entertainment. My fellow travelers were treated to my performance of the fire ant slap dance.
4 December, 2005: Northern Cardinal, Tody Motmot, and Tikal
In the morning we took a circular hike on the lake shore and through some grazing fields on the forest edge. Here we saw a nice variety of birds, including Northern Cardinal, Rufous-tailed Jacamar, White-collared Manakin, Brown Jays, Yellow-breasted Chat, White-collared Seedeater, and best of all, Tody Motmot. We also got good views of immature and adult King Vultures.
After lunch we drove to Tikal. The first thing we saw in the parking lot was completely tame Ocellated Turkeys, strolling around like common barnyard fowl. Our lodgings, the very nice Jaguar Inn (generator power at various hours), was flanked by trees full of Black Vultures. The flowers around the dining patio attracted Long-billed and Stripe-throated Hermits.
Later in the afternoon we hiked to the ruins. On the way we saw White-tailed Deer. In the Northern Acropolis (the main plaza), Keel-billed Toucans were so common we stopped looking at them. American Redstart and nearly tame Wood Thrushes were everywhere.
5 December, 2005: we pretend we are Mayan lords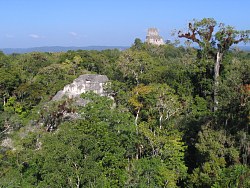 In the morning we went back to the main ruins and climbed Temple II. We moved on to the Lost World complex, and had breakfast on the temple top while observing Orange-breasted Falcon, Yellow Warbler, Red-lored Parrot, Lesser Greenlet, Blue Bunting, Black-cowled Oriole, and Olive-backed Euphonia.
In the late afternoon we set out for the ruins and climbed Temple IV at sunset. The climb to the top of the temple was up some very steep wooden steps. After the Italian tour group left, there was just us and the parrots coming home to roost. The sunset view was spectacular, illuminating the tops of the highest temples looming over the rain forest canopy. A friendly park guard escorted us to the exit in complete darkness. On the way back to the hotel, Knut said he heard the mating call of the mysterious, elusive, and endemic Four-eyed Peten foliage-gleaning leaf-tossing turquoise-vented bar-winged Scops Owl, but we did not see it.
6 December, 2005: day of the cuckoo
In the morning we were joined by an archeological guide, who explained the history of the ruins. In addition to the areas we had already visited, we toured a beautiful residential complex overlooking the main plaza, and an area under current excavation/restoration.
In the afternoon we agreed to meet at 3:00 to explore a swamp forest and some ponds. Unaccountably, Knut was late. (2 Minutes, remark by Knut)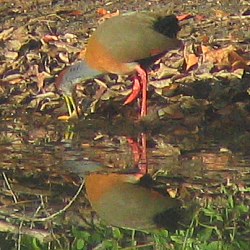 Here I must digress and explain that Knut birds every minute of every day. When we were resting, sleeping, or relaxing, he was running around like a crazy person by himself, looking for birds. When he is with guests his sole goal in life is to get everything, everything in the scope. He even tries for warblers if they are sitting still and preening.
So when Knut arrived, late, and out of breath, he explained he had found a Pheasant Cuckoo. We'd asked him previously if we could see this bird, and he'd said "no, they are very secretive, you can only find them in the mating season (April) when they are calling."
So we all ran down the old airstrip into a shrubby area and stalked the immature Pheasant Cuckoo for the next hour or so. Knut dived into the bushes, trying to flush the bird so we could see it. It would flush, then fly a way up the road and dive into the scrub again. Some of us got a good look and some didn't, but Knut was determined that we would all see this bird. When it was in the shrubbery the bird crawled around on the ground, scraping its butt and wings, making a strange soft rattling shushing noise. Knut had no idea how the bird made this sound (wings? voice?) or what the behavior meant. We all got an excellent look, and Knut sure was excited!
Since we were near some ponds, we diverted there and saw many grey necked wood rails strutting around the waterfront, and then flying into a tree to roost. It was the first time I've ever seen a rail leave the ground! There were also Morelet's crocodiles in the pond.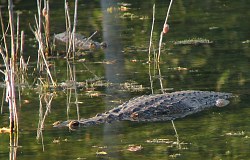 Soon it was too dark to see much, but that was cool, because we finally saw the elusive Common Pauraques with their sinister eye-shine, sitting on the ground and then hawking for insects. In fact, they lined the road all the way back to the hotel.
What a great day!
7 December, 2005: insects and devil burning!
In the morning we went to the swamp forest to look for different birds. There was a tree with steep wooden ladder/steps with very long risers. Knut climbed to the top and said there were wonderful views of the canopy and the Tikal temples. I made it about 1/3 of the way and strained my quadriceps coming down, and Sabine declined the challenge, so we missed the nice view and canopy birds. In the forest mid-story we saw a flock of Green Jays.
The mosquitoes in the forest were very bad, so after a couple of hours I fled, leaving Knut and Sabine behind. After I left, they saw Dot-winged Antwren, Gray-breasted Chat, and a big herd of Coatis, which had been amazingly elusive. However, in my headlong dash through the jungle, I saw a Collared Peccary. We scared each other badly.
Later in the morning we went to the museums. There are two; one had stelae from the ruins, and the other had ceramic artifacts and displays of some of the tombs, skeletons and grave goods found at Tikal.
After lunch we headed to the Santa Elena airport for our flight back to Guatemala City. On the way we stopped on the shores of Lake Peten Itza to shop for wood crafts and observe some water birds. We saw an American Coot.
We arrived in Guatemala City after dark, during rush hour. Inexplicably, the city was full of smoke and bonfires. Fireworks, large and small, were everywhere. In car seats and the back of pickup trucks were paper devils, like piñatas. Today was a holiday where everyone burns the devil (Quema del Diablo). They burn the devil and some trash both physical and psychic, in a bonfire in front of the home or in the street. The city was abuzz, and the highway out of town was lined with small road-side fires. Had I known about this very useful custom in advance, I certainly would have arranged for my very own devil burning and fireworks display!
We drove to the very well equipped (electricity! blankets! cable TV! reading lights! hot water all the time!) Hotel San Jorge in Antigua, where Claudia met us for dinner.
8 December, 2005: El Torito de Luces, not enough shopping, some highland surprises
The hotel courtyard was well-equipped with bird feeders, and during our breakfast in the courtyard we saw White-winged Doves, Tennessee and Wilson's Warbler, Orchard Oriole, Bronzed Cowbirds, Rufous-collared Sparrow. Black-capped Swallows were flying overhead.
We ventured out into the beautiful, well-preserved and restored town of colonial Antigua. The streets are cobblestone, the buildings are painted just the perfect colors, the garden courtyards are sumptuous, the shopping is fabulous, the signage is regulated. The town square (parque central) focuses on a fountain featuring mermaids who squirt water from the nipples of their generous bosoms. In this perverse, and very un-Guatemalan atmosphere, we explored the artisan's market next to the public market. Here, Sabine bought a wooden bird, and Annegret admired jade reproductions of Mayan burial masks. But the great feature was in the public market, where there is a whole row of stalls that sell fireworks, and, inexplicably, fresh fruit. Here I met El Torito de Luces, the "little bull of lights," a stick-and-cardboard construction of fuses and gunpowder, promising an impressive fireworks show. Knut was not amused and thought I was insane, but I bought El Torito for only Q15, proudly bargaining in my poor Spanish after the vendor asked Q25.
We had a wonderful lunch of chili turkey soup in a beautiful courtyard restaurant, and left the city of electricity and paved streets.
But things were not as bad as they seemed! After all, I had El Torito de Luces! We drove on the Pan American highway for some time. Here, we first saw some of the effects of tropical storm Stan. Great sections of highway were under repair, roads were undermined, bridges washed away, and landslide scars appeared on hillsides. We stopped in a pine forest at about 2400 meters elevation and Knut took us on a little hike to a grassy meadow surrounded by pines and broad leafed trees. Here, we saw one of the most spectacular mixed flocks of the trip, including Crescent-chested, Townsends, Red-faced and Pink-headed warbler, Blue-headed Vireo, and Hutton's Vireo. The Pink-headed Warbler is a shocking sight, because the body of the bird is bright red, and at first you don't notice the pink head at all. This is the bird for bragging rights at home! "In Guatemala I saw a pink headed warbler 100 meters from the road, and you spent a month in the wilderness of Chiapas and did not see even one. Neener neener."
We left the Pan-American and traveled on a road that skirted high above Lake Atitlan. We stopped at some spectacular lake overlooks, viewing the lake and surrounding volcanoes at sunset, and adding more birds to our list, including Black-vented Oriole, Black-headed Siskin, Eastern Bluebird, and a Red-tailed Hawk flying high over the lake against a backdrop of volcanoes, and an Acorn Woodpecker.
All the surrounding mountains had grey scars from tropical storm Stan landslides.
After dark, we arrived at Los Tarrales, our home for the next three nights.
Los Tarrales is a coffee finca that also grows ornamental plants and tropical flowers. The property covers a range of elevations on the south slope of the Santiago volcano. Much of the land has been left to nature, so there are many wonderful bird habitats.
Some of the guest rooms are in the former administrative building, which is full of old-fashioned character and objects. My room contained some 50-year-old volumes on animal husbandry.
The hotel is surrounded by the coffee processing plant, workers' village, coffee bushes, and ornamental plants.
9 December, 2005: up the volcano
We got an early morning ride partly up the mountain and walked downhill through an attractive forest, where we saw a perched Short-tailed Hawk, female Ruby-throated Hummingbird, Blue-throated Goldentail, White-bellied Emerald, and Blue-tailed Hummingbirds. New flycatchers included the Tropical Peewee, Yellowish Flycatcher and Paltry Tyrannulet. An White-throated Robin made an appearance, followed by more warblers: Worm-eating, Golden-crowned, Rufous-capped, and a beautiful Slate-throated Redstart. Tarrales was tanager heaven. We saw Western, Summer, White-winged, Blue-gray and Yellow-winged. New orioles included the Spot-breasted and Altamira. Soon we arrived at the river, where the damage from tropical storm Stan was evident. Huge boulders and logs were flung high up on the scoured riverbank.
In the afternoon we toured the coffee processing plant. Josué, a local coffee worker and guide, showed us the coffee washing, fermenting, and drying process. The wood burning mechanical coffee dryer was an ancient steam-powered behemoth, at least 100 years old. Some power for shop machines is provided by a waterwheel via a series of belts and gears. The power is turned off and on by opening or closing the water sluice to activate the waterwheel.
In the late afternoon we strolled the grounds and nearby roads. Blue crowned motmots and white throated magpie jays were easy to see. We also saw the White-bellied Chacalaca, Red-billed Pigeon, and Pacific, Orange-fronted and Orange-chinned Parakeets, Vaux's swift, Green-breasted Mango and Cinnamon Hummingbirds, and many Rufous-naped Wrens.
10 December, 2005: The best birds, and Noche del Torito de Luces
In the morning Annegret and I were too tired to go out, so Sabine and Knut went up the mountain without us, and hiked the Rinconada trail. Of course, this turned out to be the best bird day of the trip, with over 80 species spotted, including 20 new birds. These included Berylline Hummingbird, Violet Sabrewing, and Long-billed Starthroat hummingbirds; a Green Kingfisher; Golden-fronted, Smoky-brown and Golden-olive Woodpeckers; an Ivory-billed Woodcreeper; Gray-collared and Rose-throated Becard; a Long-tailed Manakin lek; the Rufous-browed Peppershrike; Red-legged Honeycreeper; Golden-crowned and Rufous-capped Warblers; Red-crowned and Red-throated Ant-Tanagers; White-eared Ground Sparrows, Black-headed Saltator, Rose-breasted Grosbeak, Yellow-billed Cacique, and the Lesser Goldfinch.
In the afternoon we toured the ornamental plant and tropical flower plantation. This was really interesting, and we viewed many varieties of heliconia, anthurium, and ginger. Inside one shaded enclosure a White-tipped Dove had become trapped, so we set it free. We saw a spectacular but shy three-foot-long false coral snake.
After dinner we decided it was time for El Torito de Luces. The entire kitchen staff and their families joined us in the road and happily lit the fuse in the bull's nether regions. Little rockets, showers of sparks and whistles emanated from various bull parts. The cook's son adopted the spent cardboard and stick framework as his own personal toy.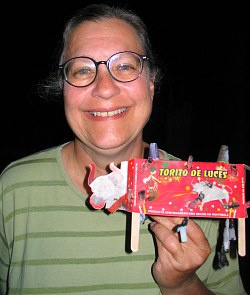 11 December, 2005: the hot Pacific slope
We left Los Tarrales and headed down slope towards the Pacific Coast. Soon we were among sugar cane plantation, coconut sellers, and debilitating heat and humidity. We passed the main Pacific container port, Puerto Quetzal, which had more security than the Pentagon, and crossed a tidal river on a tiny barge. Here we saw our first ocean birds, some Laughing Gulls.
The Hotel Pez de Oro was a few kilometers outside the unimpressive town of Montericco. Cabanas with porch hammocks are beautifully situated around two pools, and there is a pleasant restaurant overlooking a barren black sand beach.
12 December, 2005: millions of water birds
Long before dawn we walked through town to the boat landing and toured the reed swamps, where we saw thousands of water birds, including Boat-billed Herons coming in to roost, and others just waking up to feed. There were all the usual herons and egrets, but there were thousands and thousands of them! We also saw Blue-winged Teal, a bad view of a Muscovy Duck flying, Pied-billed Grebe, Neotropic Cormorant, Anhinga, Least Bittern, Black-crowned Nigh-Heron, White Ibis, a good view of the Lesser Yellow-headed Vulture, Wood Storks, Peregrine Falcon, Purple Gallinule, Red-winged Blackbird, Caspian and Royal Terns, and Common Moorhen. Knut was especially intrigued by the wintering waders and identified the Solitary Sandpiper, Stilt Sandpiper, and a Short-billed Dowitcher.
In the afternoon we took a short walk through an unattractive dry forest (the only patch left), where we saw many Inca Doves, the Turquoise browed Motmot, Ruddy Ground-Doves, Altamira and Streak-backed Oriole, a male Yellow-winged Cacique and our last parrot of the tour, the White-fronted. Along the roads in open areas were Barn Swallows and Scissor-tailed Flycatchers with their pale pink belly.
13 December, 2005: zillions of water birds
We lounged around all morning looking for sea birds over the Pacific. We saw a booby, too far off shore to identify, Magnificent Frigatebirds, Sandwich Terns, and Black Terns. We visited the sea turtle conservation center, where efforts are made to breed and release sea turtles, iguanas, and crocodiles.
We then took an afternoon boat tour of the mangrove swamps, which are beautiful but lack a variety of birds. We saw an American Pygmy Kingfisher, but no Mangrove Warbler. We found the roost of dozens of Boat-billed Herons, who were rousing themselves for the night hunt. We returned to the reed swamps, and, and saw most of the same birds as the previous morning, but not in such large numbers. However, it was interesting to see all the birds coming in to roost for the evening, especially the trees decked out with hundreds of Cattle Egrets. Returning to the boat landing after dark, hundreds of Lesser Nighthawks hunted insects above the water.
December 14, 2005: Macadamias and Maximón
Worn down by the hot weather, we departed early for Antigua for more shopping. The drive between volcanoes Agua and Fuego was very beautiful. Close to Antigua we stopped at a macadamia nut farm, where the orchards were filled with Bushy-crested Jays. This was the last new bird we saw on our tour. But we compensated by purchasing the entire stock of macadamia nuts.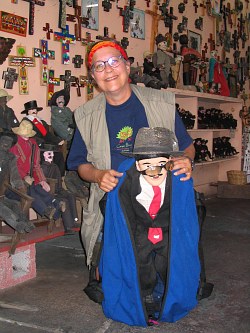 In Antigua we shopped for souvenirs, and I was drawn to a replica of Maximón, a Mayan saint who likes tobacco, liquor, food, flowers, candles, pretty lights, and a big party once a year, with fireworks. He's my kind of guy! Now, people coming to my house will bring offerings for Maximón.
Then, tragically, the tour was over. Knut, Annegret and Sabine left for a farewell dinner in Guatemala City, and I stayed in Antigua for a few days. I was really sad to see them go! We may do another tour of highland birds and during holy week in a couple of years.
Cayaya Birding is the best bird tour I have ever had!
Exaggerations and fabrications
There are not six million steps from the lakeshore of Yaxha lagoon to the top of temple 216. There are 500.
There is, of course, no scops owl in Guatemala, and Knut never said he heard one. I made that up.
List of bird species which were observed during this tour.
Species nomenclature according to AOU (1998) and supplements.
Great Tinamou Tinamus major
Muscovy Duck Cairina moschata
Blue-winged Teal Anas discors
Northern Pintail Anas acuta
Plain Chachalaca Ortalis vetula
White-bellied Chachalaca Ortalis leucogastra
Crested Guan Penelope purpurascens
Ocellated Turkey Meleagris ocellata
Spotted Wood-Quail Odontophorus guttatus
Pied-billed Grebe Podilymbus podiceps
Brown Booby Sula leucogaster
Brown Pelican Pelecanus occidentalis
Neotropic Cormorant Phalacrocorax brasilianus
Anhinga Anhinga anhinga
Magnificent Frigatebird Fregata magnificens
Least Bittern Ixobrychus exilis
Bare-throated Tiger-Heron Tigrisoma mexicanum
Great Blue Heron Ardea herodias
Great Egret Ardea alba
Snowy Egret Egretta thula
Little Blue Heron Egretta caerulea
Tricolored Heron Egretta tricolor
Cattle Egret Bubulcus ibis
Green Heron Butorides virescens
Black-crowned Night-Heron Nycticorax nycticorax
Yellow-crowned Night-Heron Nyctanassa violacea
Boat-billed Heron Cochlearius cochlearius
White Ibis Eudocimus albus
Wood Stork Mycteria americana
Black Vulture Coragyps atratus
Turkey Vulture Cathartes aura
Lesser Yellow-headed Vulture Cathartes burrovianus
King Vulture Sarcoramphus papa
Osprey Pandion haliaetus
White-tailed Kite Elanus leucurus
Gray Hawk Asturina nitida
Roadside Hawk Buteo magnirostris
Red-tailed Hawk Buteo jamaicensis
Black Hawk-Eagle Spizaetus tyrannus
Ornate Hawk-Eagle Spizaetus ornatus
Crested Caracara Caracara cheriway
Laughing Falcon Herpetotheres cachinnans
American Kestrel Falco sparverius
Bat Falcon Falco rufigularis
Orange-breasted Falcon Falco deiroleucus
Peregrine Falcon Falco peregrinus
Ruddy Crake Laterallus ruber
Gray-necked Wood-Rail Aramides cajanea
Purple Gallinule Porphyrio martinica
Common Moorhen Gallinula chloropus
American Coot Fulica americana
Sungrebe Heliornis fulica
Collared Plover Charadrius collaris
Semipalmated Plover Charadrius semipalmatus
Killdeer Charadrius vociferus
Black-necked Stilt Himantopus mexicanus
Northern Jacana Jacana spinosa
Greater Yellowlegs Tringa melanoleuca
Solitary Sandpiper Tringa solitaria
Spotted Sandpiper Actitis macularius
Least Sandpiper Calidris minutilla
Stilt Sandpiper Calidris himantopus
Short-billed Dowitcher Limnodromus griseus
Long-billed Dowitcher Limnodromus scolopaceus
Laughing Gull Larus atricilla
Caspian Tern Sterna caspia
Royal Tern Sterna maxima
Sandwich Tern Sterna sandvicensis
Black Tern Chlidonias niger
Rock Pigeon Columba livia
Pale-vented Pigeon Patagioenas cayennensis
Scaled Pigeon Patagioenas speciosa
Red-billed Pigeon Patagioenas flavirostris
Band-tailed Pigeon Patagioenas fasciata
Short-billed Pigeon Patagioenas nigrirostris
White-winged Dove Zenaida asiatica
Inca Dove Columbina inca
Ruddy Ground-Dove Columbina talpacoti
Blue Ground-Dove Claravis pretiosa
White-tipped Dove Leptotila verreauxi
Gray-chested Dove Leptotila cassini
Ruddy Quail-Dove Geotrygon montana
Pacific Parakeet Aratinga strenua
Olive-throated Parakeet Aratinga nana
Orange-fronted Parakeet Aratinga canicularis
Orange-chinned Parakeet Brotogeris jugularis
Brown-hooded Parrot Pionopsitta haematotis
White-crowned Parrot Pionus senilis
White-fronted Parrot Amazona albifrons
Red-lored Parrot Amazona autumnalis
Mealy Parrot Amazona farinosa
Yellow-naped Parrot Amazona auropalliata
Squirrel Cuckoo Piaya cayana
Pheasant Cuckoo Dromococcyx phasianellus
Groove-billed Ani Crotophaga sulcirostris
Ferruginous Pygmy-Owl Glaucidium brasilianum
Mottled Owl Ciccaba virgata
Lesser Nighthawk Chordeiles acutipennis
Common Pauraque Nyctidromus albicollis
White-collared Swift Streptoprocne zonaris
Vaux's Swift Chaetura vauxi
White-throated Swift Aeronautes saxatalis
Lesser Swallow-tailed Swift Panyptila cayennensis
Long-billed Hermit Phaethornis longirostris
Stripe-throated Hermit Phaethornis striigularis
Scaly-breasted Hummingbird Phaeochroa cuvierii
Wedge-tailed Sabrewing Campylopterus curvipennis
Violet Sabrewing Campylopterus hemileucurus
Green-breasted Mango Anthracothorax prevostii
Blue-throated Goldentail Hylocharis eliciae
White-bellied Emerald Amazilia candida
Azure-crowned Hummingbird Amazilia cyanocephala
Berylline Hummingbird Amazilia beryllina
Blue-tailed Hummingbird Amazilia cyanura
Rufous-tailed Hummingbird Amazilia tzacatl
Cinnamon Hummingbird Amazilia rutila
Amethyst-throated Hummingbird Lampornis amethystinus
Purple-crowned Fairy Heliothryx barroti
Long-billed Starthroat Heliomaster longirostris
Ruby-throated Hummingbird Archilochus colubris
Black-headed Trogon Trogon melanocephalus
Violaceous Trogon Trogon violaceus
Collared Trogon Trogon collaris
Slaty-tailed Trogon Trogon massena
Tody Motmot Hylomanes momotula
Blue-crowned Motmot Momotus momota
Turquoise-browed Motmot Eumomota superciliosa
Ringed Kingfisher Ceryle torquatus
Belted Kingfisher Ceryle alcyon
Green Kingfisher Chloroceryle americana
American Pygmy Kingfisher Chloroceryle aenea
Rufous-tailed Jacamar Galbula ruficauda
Emerald Toucanet Aulacorhynchus prasinus
Collared Aracari Pteroglossus torquatus
Keel-billed Toucan Ramphastos sulfuratus
Acorn Woodpecker Melanerpes formicivorus
Golden-fronted Woodpecker Melanerpes aurifrons
Smoky-brown Woodpecker Veniliornis fumigatus
Golden-olive Woodpecker Piculus rubiginosus
Northern Flicker Colaptes auratus
Chestnut-colored Woodpecker Celeus castaneus
Lineated Woodpecker Dryocopus lineatus
Pale-billed Woodpecker Campephilus guatemalensis
Rufous-breasted Spinetail Synallaxis erythrothorax
Buff-throated Foliage-gleaner Automolus ochrolaemus
Plain Xenops Xenops minutus
Scaly-throated Leaftosser Sclerurus guatemalensis
Tawny-winged Woodcreeper Dendrocincla anabatina
Olivaceous Woodcreeper Sittasomus griseicapillus
Ivory-billed Woodcreeper Xiphorhynchus flavigaster
Barred Antshrike Thamnophilus doliatus
Dot-winged Antwren Microrhopias quixensis
Dusky Antbird Cercomacra tyrannina
Black-faced Antthrush Formicarius analis
Yellow-bellied Tyrannulet Ornithion semiflavum
Northern Beardless-Tyrannulet Camptostoma imberbe
Greenish Elaenia Myiopagis viridicata
Ochre-bellied Flycatcher Mionectes oleagineus
Sepia-capped Flycatcher Leptopogon amaurocephalus
Paltry Tyrannulet Zimmerius vilissimus
Northern Bentbill Oncostoma cinereigulare
Slate-headed Tody-Flycatcher Poecilotriccus sylvia
Common Tody-Flycatcher Todirostrum cinereum
Eye-ringed Flatbill Rhynchocyclus brevirostris
Yellow-olive Flycatcher Tolmomyias sulphurescens
Stub-tailed Spadebill Platyrinchus cancrominus
Royal Flycatcher Onychorhynchus coronatus
Ruddy-tailed Flycatcher Terenotriccus erythrurus
Eastern Wood-Pewee Contopus virens
Tropical Pewee Contopus cinereus
Yellow-bellied Flycatcher Empidonax flaviventris
Willow Flycatcher Empidonax traillii
Least Flycatcher Empidonax minimus
Hammond's Flycatcher Empidonax hammondii
Yellowish Flycatcher Empidonax flavescens
Black Phoebe Sayornis nigricans
Bright-rumped Attila Attila spadiceus
Rufous Mourner Carpodectes holerythra
Dusky-capped Flycatcher Myiarchus tuberculifer
Great Crested Flycatcher Myiarchus crinitus
Brown-crested Flycatcher Myiarchus tyrannulus
Great Kiskadee Pitangus sulphuratus
Boat-billed Flycatcher Megarynchus pitangua
Social Flycatcher Myiozetetes similis
Tropical Kingbird Tyrannus melancholicus
Western Kingbird Tyrannus verticalis
Thrush-like Schiffornis Schiffornis turdina
Rufous Piha Lipaugus unirufus
Gray-collared Becard Pachyramphus major
Rose-throated Becard Pachyramphus aglaiae
Masked Tityra Tityra semifasciata
Lovely Cotinga Cotinga amabilis
White-collared Manakin Manacus candei
Long-tailed Manakin Chiroxiphia linearis
Red-capped Manakin Pipra mentalis
White-eyed Vireo Vireo griseus
Mangrove Vireo Vireo pallens
Yellow-throated Vireo Vireo flavifrons
Blue-headed Vireo Vireo solitarius
Hutton's Vireo Vireo huttoni
Tawny-crowned Greenlet Hylophilus ochraceiceps
Lesser Greenlet Hylophilus decurtatus
Green Shrike-Vireo Vireolanius pulchellus
Rufous-browed Peppershrike Cyclarhis gujanensis
White-throated Magpie-Jay Calocitta formosa
Green Jay Cyanocorax yncas
Brown Jay Cyanocorax morio
Bushy-crested Jay Cyanocorax melanocyaneus
Gray-breasted Martin Progne chalybea
Mangrove Swallow Tachycineta albilinea
Black-capped Swallow Notiochelidon pileata
Northern Rough-winged Swallow Stelgidopteryx serripennis
Cave Swallow Petrochelidon fulva
Barn Swallow Hirundo rustica
Bushtit Psaltriparus minimus
Band-backed Wren Campylorhynchus zonatus
Rufous-naped Wren Campylorhynchus rufinucha
Spot-breasted Wren Thryothorus maculipectus
Rufous-and-white Wren Thryothorus rufalbus
Plain Wren Thryothorus modestus
House Wren Troglodytes aedon
White-bellied Wren Uropsila leucogastra
White-breasted Wood-Wren Henicorhina leucosticta
Long-billed Gnatwren Ramphocaenus melanurus
Blue-gray Gnatcatcher Polioptila caerulea
Tropical Gnatcatcher Polioptila plumbea
Eastern Bluebird Sialia sialis
Orange-billed Nightingale-Thrush Catharus aurantiirostris
Swainson's Thrush Catharus ustulatus
Hermit Thrush Catharus guttatus
Wood Thrush Hylocichla mustelina
Clay-colored Robin Turdus grayi
White-throated Robin Turdus assimilis
Gray Catbird Dumetella carolinensis
Blue-winged Warbler Vermivora pinus
Tennessee Warbler Vermivora peregrina
Crescent-chested Warbler Parula superciliosa
Northern Parula Parula americana
Yellow Warbler Dendroica petechia
Chestnut-sided Warbler Dendroica pensylvanica
Magnolia Warbler Dendroica magnolia
Black-throated Green Warbler Dendroica virens
Townsend's Warbler Dendroica townsendi
Black-and-white Warbler Mniotilta varia
American Redstart Setophaga ruticilla
Worm-eating Warbler Helmitheros vermivorum
Ovenbird Seiurus aurocapilla
Northern Waterthrush Seiurus noveboracensis
Kentucky Warbler Oporornis formosus
Hooded Warbler Wilsonia citrina
Wilson's Warbler Wilsonia pusilla
Red-faced Warbler Cardellina rubrifrons
Pink-headed Warbler Ergaticus versicolor
Slate-throated Redstart Myioborus miniatus
Golden-crowned Warbler Basileuterus culicivorus
Rufous-capped Warbler Basileuterus rufifrons
Golden-browed Warbler Basileuterus belli
Yellow-breasted Chat Icteria virens
Gray-throated Chat Granatellus sallaei
Bananaquit Coereba flaveola
Gray-headed Tanager Eucometis penicillata
Black-throated Shrike-Tanager Lanio aurantius
Red-crowned Ant-Tanager Habia rubica
Red-throated Ant-Tanager Habia fuscicauda
Summer Tanager Piranga rubra
Western Tanager Piranga ludoviciana
White-winged Tanager Piranga leucoptera
Blue-gray Tanager Thraupis episcopus
Yellow-winged Tanager Thraupis abbas
Red-legged Honeycreeper Cyanerpes cyaneus
White-collared Seedeater Sporophila torqueola
White-eared Ground-Sparrow Melozone leucotis
Spotted Towhee Pipilo maculatus
Rufous-collared Sparrow Zonotrichia capensis
Grayish Saltator Saltator coerulescens
Buff-throated Saltator Saltator maximus
Black-headed Saltator Saltator atriceps
Black-faced Grosbeak Caryothraustes poliogaster
Northern Cardinal Cardinalis cardinalis
Rose-breasted Grosbeak Pheucticus ludovicianus
Blue Bunting Cyanocompsa parellina
Indigo Bunting Passerina cyanea
Red-winged Blackbird Agelaius phoeniceus
Melodious Blackbird Dives dives
Great-tailed Grackle Quiscalus mexicanus
Bronzed Cowbird Molothrus aeneus
Black-vented Oriole Icterus wagleri
Black-cowled Oriole Icterus prosthemelas
Orchard Oriole Icterus spurius
Yellow-tailed Oriole Icterus mesomelas
Streak-backed Oriole Icterus pustulatus
Spot-breasted Oriole Icterus pectoralis
Altamira Oriole Icterus gularis
Baltimore Oriole Icterus galbula
Yellow-billed Cacique Amblycercus holosericeus
Yellow-winged Cacique Cacicus melanicterus
Montezuma Oropendola Psarocolius montezuma
Scrub Euphonia Euphonia affinis
Yellow-throated Euphonia Euphonia hirundinacea
Elegant Euphonia Euphonia elegantissima
Olive-backed Euphonia Euphonia gouldi
Blue-crowned Chlorophonia Chlorophonia occipitalis
Black-headed Siskin Carduelis notata
Lesser Goldfinch Carduelis psaltria
House Sparrow Passer domesticus
Juliet Petrencs