CAYAYA BIRDING
Vogelkundliche Reisen in Guatemala seit 2003



Foto des Monats
November 2023Guatemala ist mit mehr als 770 Vogelarten und einer Vielfalt an Ökosystemen ein attraktives Reiseziel für Vogelbegeisterte. CAYAYA BIRDING bietet erstklassige Vogelbeobachtungsreisen und Tagestouren - privat und für kleine Gruppen - konzipiert für Vogelbegeisterte, geführt von Knut Eisermann, Claudia Avendaño, und kenntnisreichen lokalen Guides. Knut und Claudia leben und erforschen die Vögel in Guatemala und haben zahlreiche Publikation zur Vogelwelt des Landes veröffentlicht, u.a. eine kommentierte Artenliste (Annotated Checklist of the Birds of Guatemala. Lynx Edicions, 2007). Seit mehr als 20 Jahren führen sie Ornithologen aus aller Welt durch die Vogelwelt Guatemalas (was Vogelbegeisterte sagen über CAYAYA BIRDING).
---
CAYAYA BIRDING Reisen Guatemala

---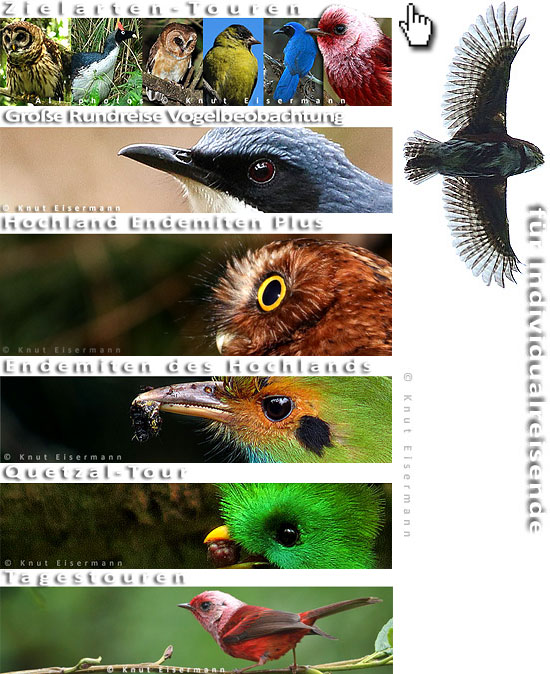 Vogelbeobachtung in Guatemala mit CAYAYA BIRDING

Bei CAYAYA BIRDING Guatemala:
unternehmen wir Vogelbeobachtungsreisen ausschließlich in kleinen Reisegruppen, um bestmögliche Beobachtungsbedingungen zu gewährleisten, um negative Einflüsse auf die Natur so gering wie möglich zu halten, und um einen persönlichen Service zu garantieren. Unsere Reisen werden in deutsch, englisch und spanisch geleitet.
organisieren wir Transporte mit klimatisierten Mini- oder Coaster-Bussen, und wo notwendig mit Allradfahrzeugen. Wir übernachten in gemütlichen in Eco-lodges und kleinen Hotels, wo Vögel auch während der Ruhepausen zu beobachten sind. Vegetarische Gerichte sind auf Nachfrage immer erhältlich.
organisieren und leiten wir erfolgreich seit 2003 Vogelbeobachtungsreisen in Guatemala. Unsere Kenntnisse zur Vogelwelt und zu Land und Leuten basieren auf mehr als 20 Jahren ornithologischer Feldforschung, Reisen und Naturschutzarbeit im Land. Wir leben in Guatemala, und wenn wir gerade keine Vogelbeobachtungsreise leiten, sind wir draußen und finden Neues heraus über besondere Vögel, bilden lokale Guides aus, unterstützen die Entwicklung von Lodges und Naturschutzgebieten, finden neue aufregende Beobachtungsgebiete, und unterstützen Naturschutzinitiativen.
Beginnen Sie heute mit der Planung Ihrer Vogelbeobachtungsreise nach Guatemala!
---