Was Vogelbegeisterte sagen über CAYAYA BIRDING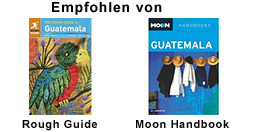 "CAYAYA BIRDING ... resident specialists with unmatched knowledge of birding hot-spots." Rough Guide to Guatemala, 5th edition (2012), p.26, by Iain Stewart.

"You could easily center your entire Guatemala vacation around birding, Guatemala's best birding outfitter is CAYAYA BIRDING." Moon Handbooks Guatemala, 2nd edition (2007), p.23, by Al Argueta.
---
July 2023, 5-day tour in the higlands of Guatemala

"Knut and Claudia are the most knowledgeable, gentle, humble and self-effacing bird natural historian guides I have ever been led by in years and years of birding! Knut's keen bird awareness, speed and ability with the scope is truly unique. I have never enjoyed so much and experienced watching canopy gorgeous birds with the scope like I did with him! Together, through decades of hard work and love for Guatemala Knut and Claudia have pioneered most birdwatching hotspots in Guatemala. They have selflessly trained many other guides you'll find in the country. Their knowledge of the history of every single locale and of the geographic bird distribution processes is simply unparalleled!!! The plan they craft for your touring experience is worked out to the very last detail. Nothing is left to chance yet nothing feels rushed! You get to learn so much in so little time! Everything is calculated with precision, love and care and it shows so much!!! I am extremely thankful, my heart is full!!"
José Miguel Ponciano, Florida, USA

"This was a once in a lifetime experience as a birdwatcher and human being! In a few days we learned so much! We even got a mini-course in photography. In only four days we were able to enjoy, capture and begin to comprehend the beauty and diversity of the birds of Guatemala. At any time did we feel rushed. Never was seeing a species target a touch-and-go experience, so much natural history knowledge!!! We feel so thankful and honored to have had this experience!!!"
Marcela Diaz, Florida, USA
---
August 2023, half-day day tour from Antigua Guatemala

"Claudia and Knut are amazing scientists, naturalists and birders. They gave us a very engaging two-hour tour to our large family group at Finca El Pilar outside of Antigua. They engaged with all members of our group, from the grandmother to the eight-year-old. Everyone especially enjoyed the hummingbirds, and the whole group got to see many other birds in the spotting scope, including a pair of beautiful Black-vented Orioles. In the past, Knut and Claudia have taken me on serious birding outings, and they are the best in the country for that as well. I could not recommend them more highly for both serious birding and for more casual nature tours."
Kevin Omland, Baltimore, MD
---
February/March 2023, 10-day tour through the highlands of Guatemala

"Knut was expert at finding the birds we were looking for and often managed to have them quickly in the scope so that I enjoyed many great views. The hike up to see the Horned Guan was nicely interrupted to look for owls on the way up; I didn't dream to have such great views of the Horned Guans posing and then feeding in the aguacatillo trees."
Jean-Francois Burhis, Netherlands
---
February 2022, 1-week tour tour in the highlands and foothills of Guatemala

"As most experienced guides Knut Eisermann was able to identify all birds by call as well as song and sight. However, he was exceptionally good at getting his clients on the bird of interest. He was also incredibly committed to finding target birds and to meet his clients' objectives. Birding aside, Knut (and Claudia) were terrific company. Finally the logistics and communications about the trip were exceptionally clear, timely and relevant."
Magnus Persmark, United States
---
January 2020, day tour from Antigua Guatemala

"Claudia Avendaño and Knut Eisermann are likely the two most experienced bird guides in Guatemala. I have been birding with them several times at El Pilar and Finca Filadelfia near Antigua. Both are extremely knowledgeable, organized and delightful to be with. As they are local, they have detailed knowledge of birds, birding sites, transportation and logistics of Guatemala that no international tour organization could possibly compete with. If you need some key target species for your life list, or if you are a just an ecotourist in Guatemala and you want to get out and see some birds, CAYAYA BIRDING is the way to go."
Kevin Omland, Baltimore, MD, USA.
---
November-December 2019, 16 days birding tour throughout Guatemala

"Guatemala with CAYAYA BIRDING - far from the longest bird-list I've ever had, nor perhaps equalling the great wild-life spectacles of East Africa, but this was one of the very best birding trips I've ever been on. The leader is key on any sort of wild-life trip and I make no apology for the emphasis that I place on this area. We picked up all the "marquee" species and had many extra surprise bonus birds. All this is because Knut Eisermann has to be one of the world's very top bird leaders. His ability as a bird-finder must be unrivaled and he has the unique ability to get scope views of rainforest rarities. This alone makes a huge difference. He also has an unrivaled knowledge of the country's avifauna and has an extensive array of contacts, including local guides, to smooth the finding of rarities. Our list of owls, photographed as well as seen, was amazing. A bird leader also needs lots of "softer" skills and once more Knut excels - multi-lingual, resourceful, and with an excellent sense of humour. It really was like going birding with an old friend. There was always flexibility and a Plan B if necessary. To literally wet your appetite, the food and accommodation were absolutely superb. If you are thinking of a bird trip to Guatemala, and you should, then I'm afraid that there is no alternative to CAYAYA BIRDING."
Mike Thompson, United Kingdom

"A great trip with a brilliant guide. Knut Eisermann was both fun to be with and excellent at getting us onto all the birds."
David Crawshaw, United Kingdom

"Thank you Knut and Claudia for one of the best birding trips I have been on, well considered and organised itinerary led by a highly knowledgeable and likeable guide who quickly located birds in the scope. Great birds, scenery, accommodation and coffee, I couldn't recommend CAYAYA BIRDING highly enough."
Fiona Ireland, United Kingdom
---
December 2019, day tour from Antigua Guatemala

"We (my wife and I) spent a wonderful day with Claudia Avendaño near Antigua. We saw many birds, including a great collection of hummingbirds. As well as being very knowledgeable, Claudia was a great companion. We are very much novice birders and she took great care to introduce us to the birds. All in all, it was a great day out."
David Eisner, Manchester, UK.
---
November 2019, 6-day target birding trip in the highlands of Guatemala

"A much anticipated return to this wonderful country after a several year break. A huge thanks to Knut Eisermann and Claudia Avendaño, for yet another absolutely fantastic trip. The whole thing meticulously planned and operated. Exceptionally knowledgeable, focused, patient and kind, the CAYAYA BIRDING team are the natural choice for birdwatching in Guatemala. Already planning our next visit! "
Harry Barnard, United Kingdom and Costa Rica.
---
November 2019, CAYAYA BIRDING day tour from Antigua Guatemala

"My wife and I spent a wonderful day with Claudia Avendaño birding at the end of a weekend stay in Antigua. We have gone birding with world class guides in Ecuador, Peru, Costa Rica and Panama, and I can say without hesitation that Claudia is in that class. Given that she and Knut Eisermann are the longest running bird guiding outfit in Guatemala, it is to be expected that she knows and can find the birds of Guatemala better than anyone else. That she is a professional ornithologist, and active in conservation only makes recommending CAYAYA BIRDING that much easier. Most importantly, she was able to take account of our age (early 70s), infirmities (altitude impact) and conditioning to give us the measured activity that allowed us to enjoy our day and see what we came to see. She is as quick to line birds up in her scope as anyone I've birded with, and knows the birds of Guatemala and where to find them from her more than 25 years of study, field research and leading trips all in Guatemala. Claudia is a delightful, charming and interesting woman who clearly enjoys doing what she does so well."
Joel Rosenthal, Miami, Florida, USA.
---
July 2019, CAYAYA BIRDING day tour from Antigua Guatemala

"Claudia Avendaño is a professional ornithologist, Birdlife International consultant and naturally a great birder! Tecpan gave us the opportunity to search for Blue-throated Motmot and Pink-headed Warbler both of which Claudia found but birding here without a guide would be very difficult. El Pilar trip started with a visit to some superb hummingbird feeders which were excellent with so may hummers across six species. If you're a photographer be prepared to spend some serious amount of time there! I have no hesitation in recommending CAYAYA BIRDING and especially Claudia. "
Katherine Branch, United Kingdom.
---
February 2019, 16-days birding tour in the highlands of Guatemala

"We spent 14 unforgettable days with Knut Eisermann birding in various locations within 3 hours drive of Guatemala City. Apart from being the most impressive birder we have been with - identifying and making sure that we had good looks at every bird we recorded - Knut and his partner Claudia Avendaño had every last detail of our trip totally organized - right down to coffee at 5:00 in the morning for our many early starts. Hikes up volcanoes and through a variety of habitats were most impressive.
Every lodging they had booked us into were beyond our expectations and top quality. Claudia's follow up phone calls to make sure we had met up with our drivers to get to and from airport were most appreciated.
Equally impressive as Knut's birding knowledge and locations to bird, was his concern about all things to do with Guatemala and birding. He is a true ambassador for all things Guatemala and a shining example of what a bird guide should be. We will be going back to Guatemala with Claudia and Knut of CAYAYA BIRDING."
Rose, Bernie and John Diebolt, Canada.
---
February 2019, 6-day bird photography tour in the Guatemalan highlands

"Four of us went to Guatemala in the hope of photographing the regional endemics. Thanks to Knut's expertise, we saw and photographed almost all on our wish list. I would recommend CAYAYA BIRDING company for anyone birding or pursuing serious photography in Guatemala. Knut Eisermann not only knows the birds and how to find them, but is an accomplished photographer himself, so he knows just what a photographer needs when in the field. We can't wait to come back."
Richard Greenspun, Florida, USA.

"I was part of a four person bird photography tour of Guatemala. Knut Eisermann was the best guide I have ever toured with. He was quick to find target birds and as we were a photography group was comfortable spending extra time allowing us to get the photographs we desired. He was very quick to get the target birds in the scope which helped us locate the birds to shoot. The highlight was a tour to find the Horned Guan, which we did. This is one trip that I will remember for a lifetime. Thanks to Claudia for all of the hard work in coordinating our group."
Gary Wong, Florida, USA.

"Knut is a fantastic guide - he is friendly, knowledgeable, gentle, accommodating, and patient. He always had a big smile, never complained and was so nice to the Guatemalans including them in his guiding business and helping them to appreciate and protect their special and beautiful environment. He is one of my all time top guides in the world that I have had the pleasure of meeting and traveling with. "
Kathryn Young, Florida, USA.

"Our main guide Knut Eisermann was great. He knew the areas very well. His knowledge of the birds and their calls was amazing. We saw almost every single one of our target birds. The lodges were in excellent locations. The food was very good to our delight. If birding in Guatemala is on your birding travel/adventure list then you should truly consider using CAYAYA BIRDING. "
Paul Petrus, Florida, USA.
---
January 2019, 1-week photography tour in the Guatemalan highlands

"I traveled with Knut Eisermann from CAYAYA BIRDING this past week, looking for highland species such as Horned Guan. We found almost all our target species and were able to get good photos of most of them. Knut is an excellent guide who instantly knows all the bird calls. He is very patient and doesn't mind the long drives to get to all the birding sites."
Pete Ferrera, New York, USA.
---
December 2018 - January 2019, 15-day birding tour through Guatemala

"Me and four well travelled friends used CAYAYA BIRDING for a private 15-day Guatemala birding tour in December 2018-January 2019. Our focus was regional endemics plus we wanted to visit and bird Tikal. We were more than satisfied with the tour. It exceeded our expectations. The whole arrangement was excellent with a good mix of habitats, ensuring that we ended up with a very nice trip list (386 species, of which 13 were heard only). Knut Eisermann was a splendid guide, very keen to find our targets and with excellent knowledge of all the birds occurring in Guatemala. A slightly unexpected bonus was his special interest in owls, which meant that owling was an almost nightly exercise. Our final trip list included nine species of owls and they were all seen!
I can thoroughly recommend a birding tour to Guatemala. It is a very scenic country and it has A LOT of special birds, many of which do not occur in Costa Rica for example. If you visit in the winter you can also expect to see many wintering North American warblers, which is always nice. If you decide to go birding in this beautiful country, be sure to use CAYAYA BIRDING for your tour."
Tomas Hedmark, Sweden.

"A fantastic 15-day tour in Guatemala with Knut as tour leader. Nice birds like Horned Guan, Resplendent Quetzal, Orange-breasted Falcon, Pink-headed Warbler, nine owl species seen, volcanoes, the ancient Mayan city Tikal, nice company and many laughs. Highly recommended."
Patric Carlson, Sweden

"Guatemala: a great country for birding trips. Great birds and fantastic landscapes with volcanoes, some of them active. On this trip we saw 370+ birds including top birds such as Horned Guan, Fulvous Owl, Orange-breasted Falcon, and so on. Excellent guiding by Knut Eisermann. Final birding in the Mayan monumental historical site of Tikal, with more than 120 birds seen in that area."
Stefan Johansson, Sweden
---
November 2018, 10-day birding tour through Guatemala for Atlanta Audubon

"I was able to organize a 10 day trip with Claudia Avendaño for an 11 person group I was leading for Atlanta Audubon. We had a spectacular time! We were able to visit the western highlands as well as the lowland forests at Tikal National Park. In addition to finding life birds and seeing amazing places, this trip had a special focus on shade grown coffee and the Wood Thrush. CAYAYA BIRDING did a great job helping us create a customized itinerary that balanced birding, culture, conservation, and educational opportunities. Claudia was skillful at noticing the needs and desires of each particular group member and adjusting accordingly. She was well prepared and researched and understood what our group desired. The lodging, transportation, and local guides all met or exceeded expectations. I cannot recommend CAYAYA BIRDING and Claudia Avendaño enough and absolutely plan on birding with them again in the future. We were able to see 275 species in 10 days and everyone left happy and healthy."
Adam Betuel, Atlanta Audubon Society.

"Claudia Avendaño was an exceptional guide on our recent 8-day trip. We covered a wide variety of habitats and saw so many amazingly beautiful birds. Claudia's attention to detail made the trip go smoothly--even when we had unexpected delays. I've described the trip to my friends as FANTASTIC! I'm still reliving the many and varied experiences we had." Karen Lindauer, Atlanta, Georgia

"CAYAYA BIRDING and Claudia Avendaño are excellent. We had a great experience and really learned to appreciate the beauty and uniqueness of Guatemala. The birds were great, the logistics were perfect and the added cultural experiences were perfect. Thanks CAYAYA BIRDING for a great trip." Linda DiSantis, Atlanta, Georgia

"Guatemala is a terrific place to see great birds. Claudia Avendaño is a fantastic guide!" Colleen McBride, Atlanta, Georgia

"CAYAYA BIRDING was excellent! We will remember this trip forever!" Kay Grinnell, Atlanta, Georgia
---
November 2018, 1-week birding tour in the Guatemalan highlands and Tikal

"Knut Eisermann provided my son and I with a wonderful week of birdwatching in Guatemala. He is warm, friendly and fun! His birding skills are second to none. We had a wonderful time and I can't say enough good things about our time with him."
Michael Robinson, Washington, USA.
---
October 2018, 6-day birding tour in southern Guatemalan highlands

"Five days in the company of Knut Eisermann birding the hills and valleys of the countryside surrounding Antigua, Guatemala was an absolute delight. Knut is as much an ornithologist, with a special interest in owls, as he is a birder and this made the trip extra special. I am a serial guide user in the Americas and Knut is up there with the best of them."
Kevin Buckley, New Jersey, USA.
---
August 2018, 5-day target trip in the Guatemalan highlands

"I had the pleasure of birding the highlands with Knut Eisermann for a week in August with two friends. Besides seeing some mega birds - Horned Guan, Pink-headed Warbler, and Belted Flycatcher for example - I was really impressed by the amazing scenery, delicious cuisine and comfortable accommodations. I hope to book another trip with CAYAYA BIRDING again soon!"
Michael C. Duffy, New York, USA.
---
June 2018, 1-week photography tour in the Guatemalan highlands

"Just had my second, brilliant trip with Knut and CAYAYA BIRDING. Honestly, can't think of how it could have been improved on. Knut and Claudia think of every single detail to make sure that everything goes smoothly and that, as a guest, you have the best possible birding experience. Knut is great company and is deeply knowledgeable. We found all the birds we went looking for, and I was lucky enough to get good chances for photos of each species. Spent part of our time together discussing our next trip together ... can't wait. Really recommend CAYAYA BIRDING, with no hesitation whatsoever ... wonderful way to experience a great birding country."
Kevin Bartlett, Buenos Aires, Argentina. onwildground.com/
---
April-May 2018, 18-days target trip throughout Guatemala

"We had an extremely good trip. Everything was organized with an incredible attention to detail; we saw a huge amount without feeling rushed; and the food and accommodation were far better than we had expected. Knut Eisermann is an excellent guide with an incredible knowledge of the birds, wildlife and culture of his adopted home. He is also very pleasant company in the field. Very highly recommended."
Graham Tebb, Vienna, Austria.

"Birding tour guided by Knut Eisermann. Nearly 400 species (376 species seen) thanks to Knut's excellent knowledge of bird sounds and locations. Great accommodations, too. Excellent food. Lovely people. I enjoyed all places we visited, with Tikal being the most impressive. 3 weeks seemed a good length for our trip, but I could have stayed longer!"
Gerlinde Taurer, Vienna, Austria.
---
March 2018, semi-independent birding in Guatemala

"My husband and I recently returned from an incredible two-week semi-independent birding tour of Antigua and the Lake Atitlan area of Guatemala, organized by Claudia Avendaño of CAYAYA BIRDING. We can't speak highly enough about the entire trip, including, guides, drivers, and lodging. Claudia tailored the tour to our interests and needs, arranged everything in great detail, and the trip went like clockwork. Claudia, herself, was our guide for the first three half-day tours in the Antigua area. Her knowledge of birds and her ability to call, spot, and get them into her scope before they flew away was amazing.

This is the first time a guide has arranged a custom trip for us and her suggestions regarding lodging, not renting a car, what to wear, etc were right on target. She was able to get lodging for us at places that were "sold out" on internet booking sites; all were in excellent locations for walking around town, offered birding on site in their gardens and all had restaurants so that we did not need to go out at night if we were tired at the end of a full day.

The two guides she arranged for us near Lake Atitlan (five more half-days) were also excellent. Their ears were as impressive as their spotting abilities. We saw and photographed motmots, trogons, owls, warblers, woodpeckers, orioles and many other birds that we had never seen before. We even spotted a Resplendent Quetzal. Driving in Guatemala can be challenging and the drivers she arranged to take us between locations also were very skilled. We felt completely at ease in their hands and were grateful that we could just sit back and enjoy the views.

We highly recommend Claudia and CAYAYA BIRDING both as guides and as tour organizers."
Janice Eldred, California, USA.
---
February 2018, 5-day birding trip focused on warblers in Guatemala

"I just returned from a very productive birding trip down to Guatemala with my primary focus being warblers. I had a target list and managed to find all of them thanks to the expert guiding from Knut Eisermann. I let them know exactly what species I was looking for and they planned an itinerary that would give us the best chances of finding them. I would highly recommend them as they know where the birds are, get you on them and tailor the tour to whatever you want to find. Although Knut is originally from Germany he has been down in Guatemala for 20 years so knows the country very well and I always like providing business to local guides when I travel."
Larry Therrien, Massachusetts, USA.
---
February 2018, 24-day semi-independent birding and photography trip through Guatemala

"Our travel preparations startet at 25th October 2017 and at 3rd December our trip was fixed and everything was booked. We got a lot of helpfull recommendations from Knut Eisermann and Claudia Avendaño in advance and during our journey. We (two persons) traveled alone with private transportations between our 5 stations. Hiking, birding and some culture. More time at one place and less time in a car. That was our plan this year. Were our expectations fulfilled? Oh, yes!!! The country is beautifull, the people are nice. The organization of our trip was planned in detail, but there was always time for relaxing and shifting. There was no waste of time in cars or in the planes. Distances between the places were short. Our drivers had been always in time. Our guides were patient and always professional. What did we like best? We loved all places we visited! Every place was unique and we enjoyed every moment. Los Tarrales was the best start we could have to enter Guatemala. We had good food, a very nice local guide, Lester, who always was taking care of us. The hiking up to the Horned Guan was exhausting, but worth every drop of sweat (Fulvous Owl, Horned Guan, Blue-throated Motmot and Quetzal). Monterrico was a good mixture of birds, beach and drinks at the pool. Antigua was our chance to meet Claudia, who was always had an eye on us. We had a nice day with her at El Pilar. We saw so huge eruption of Fuego. Yaxha was great staying at El Sombrero and doing several boat trips with Juan and enjoing the sunset at the pyramide. And finally Tikal we discovered the jungle with the maya sites, monkeys, coatis, birds, snakes and spiders. What were our favorite birds of the trip? Horned Guan, Quetzal, Golden-hooded Tanager, Azure-rumped Tanager, Northern Potoo, Ocellated Turkeys, Great Curassows, Keel-billed Tucan and and and ..."
Matthias Putze, Leipzig, Germany.
---
November 2017, modified Guatemala Birding Loop

"We spent two weeks in Guatemala to see the specialty birds of the region. It was the right decision to ask CAYAYA BIRDING to organize our tour. Knut Eisermann was a perfect guide knowing all the birds, the secret places and the culture of the people. He involves local guides which helps finding the birds and supporting the communities. We did see all the special birds of the region we were hoping for plus several real rarities like Unspotted Saw-whet Owl. Being impressed by the incredible landscape, the friendliness of the people, the Mayan historical sites and the many birds, we will come back to Guatemala and we will definitely contact CAYAYA BIRDING again to organize our next trip."
Jochen Baurmeister and Frauke Jordt, Pennsylvania, USA, and Frankfurt, Germany.
---
October 2017, 7-day target trip

"Knut Eisermann took a friend and I in search of rare species. Even though we weren't able to reach one area due to road closures, Knut was able to quickly come up with alternate locations and great birds. He is a very personable and skilled guide that I would recommend to anyone wanting to bird Guatemala. Also he is a very safe driver."
Ken Havard, Canada.


---
July 2017, birding day trip from Antigua

"Great birding and great company by a knowledgeable guide, my day trip to Tecpan and Antigua was problems-free and full of regional endemics. Knut Eisermann (and Claudia Avendaño) took care of everything before my arrival to Guatemala, and in the field he was very professional (but treated me like a friend, what I appreciate a lot). I got most of my targets and many other goodies! Thanks guys!"
Jan Axel Cubilla, Panama.
---
June 2017, day trip from Antigua Guatemala
"Claudia Avendaño was very professional and knowledgeable. Her English was impeccable, and I felt very comfortable spending the day with her. She was lightening quick with her spotting scope, and as a result I was able to see many birds I never would have seen without her assistance. She was a good listener and answered all my questions. I was impressed with her keen ear for the birds. I would highly recommend CAYAYA BIRDING tours to any bird lover. It is worth every penny!"
Tina Collins, USA.
---
May 2017, 7-day bird photography trip (Tour leader: Knut Eisermann)

"I recommend CAYAYA BIRDING highly for either birders or photographers."
Allan Obertreiber, Texas, USA.
---
May 2017, day trip from Guatemala City (Tour leader: Claudia Avendaño)

"We were very pleased with our trip. Very much appreciated the expertise of Claudia Avendaño, who demonstrated extensive knowledge of birds, habitats, and ecology. Everything from our timely pickup, birding, meals together, and transportation was pleasant and professional. Claudia was very patient with our desires to take photos, and linger at various spots. She was an expert in quickly locating and drawing a bead on numerous species."
Bryan & Judy Hollinger, USA.
---
April-May 2017, 18-day birding trip (Tour leader: Knut Eisermann)

"The trip was absolutely the best. I have been on many guided trips to a number of countries, but none were more well organized and thought out than yours."
Dennis Shirley, Utah, USA.

"Had an amazing experience with CAYAYA BIRDING. I can't think of any way the trip could have got any better. Truly remarkable. Knut Eisermann was spot on in every way and made the trip a success. We saw nearly every target species we had and enjoyed learning about the country. I would very highly recommend CAYAYA BIRDING for anyone wanting to enjoy the beauty of Guatemala and of course the birds!"
Steve Clark, Utah, USA.

"CAYAYA BIRDING are the Guatemala experts. For expert guiding, logistics planning and knowing where the birds are, you can't beat the team of Knut Eisermann and Claudia Avendaño! Thanks for a great trip, guys!!"
Mark Conrad, Arizona, USA.

"Knut Eisermann & Claudia Avendaño are the best! They go out of their way to ensure a great trip!"
Lori Conrad, Arizona, USA.
---
March-April 2017, 14-day birding trip through Guatemala

"Knut Eisermann and Claudia Avendaño set up a well-planned trip for us, with comfortable accommodations and good restaurants. The birding locations were really well chosen and researched and Knut's (our guide) ability to hear and spot birds and get a scope on them was extraordinary. We saw more than 340 species on our 2-week trip. Knut had a great sense of humor and was a lot of fun to be with. He has found drivers and guides who were also really fun and very helpful. Every detail was taken care of for us, and we never felt uneasy or unsafe at any time in Guatemala. The birding there is extraordinary and some of the sites were real standouts. A good deal of that is actually due to the personal efforts of Knut and Claudia to work with landowners and lodge owners to gain access and to set up their accommodations and bird feeding stations. They have also trained local guides and thoroughly researched the various habitats to be able to locate the target birds. If you want to see the birds of Guatemala, I doubt that you could do better than to go with CAYAYA BIRDING Tours."
Steve Broste - Minnesota, USA.

"On March 23, 2017, four of us Minnesotans joined Knut Eisermann on a 14-day birding trip in Guatemala. We sampled a number of different habitats and areas and saw an amazing 341 birds, including many of the regional endemics. The trip was everything we could have asked for: clean and hospitable accommodations, confident and pleasant drivers who knew their way around Guatemala and Guatemalan traffic, knowledgeable local guides, and - in particular - an outstanding guide and trip leader in Knut Eisermann, who has an encyclopedic wealth of knowledge about Guatemalan birds. Knut knows bird calls so well that he is able to get participants on birds rapidly. He is very proficient with the scope and always concerned that everyone has "seen the bird." He was solicitious of all our needs and target bird lists, and provided us with a wealth of extra information about Guatemala and about birds. He made sure that Steve -a photographer- could get the best shots possible in many difficult situations. Knut also had a great sense of humor which made our down time fun and entertaining. His partner, Claudia, efficiently arranged our tour so there were no glitches or hang-ups, and we all felt that the entire trip was seamlessly organized in a very professional manner. Anyone who is reluctant to try Guatemala as a birding hotspot is definitely missing out if you let outdated information prevent you from going. CAYAYA BIRDING is a company we would not hesitate to use again and recommend wholeheartedly. We have birded in many different Central and South American countries and were pleasantly amazed at the professionalism and expertise CAYAYA BIRDING provided."
Kathy and Donn Mattsson, Cindy and Steve Broste - Minnesota, USA.
---
March 2017, 9-day birding tour through Guatemala, in collaboration with Quetzal Tours, Fort Collins, Colorado

"Knut Eisermann is a great guide, with an amazing ability to spot birds in many conditions. His knowledge comes from many years of study and birding in Guatemala. He is easy-going, treating all level of birders equally. His English/Spanish language fluency and years of experience in the country makes the travelling experience very comfortable. CAYAYA BIRDING went out of their way to help us with accommodations for our extended stay. Our driver and vehicle were top-notch; the hotels/cabins exceeded our expectations. This is a highly recommended, top value organization."
Bill Killam, USA.
---
March 2017, 9-day birding trip through Guatemala

"Excellent organized birding tour with Knut Eisermann as a world-class birding guide."
Fritz Furrer, Switzerland.

"Knut Eisermann was outstanding, friendly, kind, had unbelievable patience in finding the bird. He knew every call and song (as much as I could tell). The trip was exceptionally well organized and documented."
Alfred Raab, Canada and Panama.


---
Februar 2017, 3-Tages-Tour im pazifischen Hochland Guatemalas.

"Knut Eisermann is a very experienced guide, probably premier birding authority in Guatemala. Claudia helped us decide and plan our trip making it an easy process. I would definitely go again. They are first rate group!"
Wayne Rapp, USA.
---
Januar 2017, 8-Tages-Tour Vogelfotografie in Guatemala

"Absolutely every detail was beautifully planned and managed by Claudia Avendaño and Knut Eisermann ... nothing left to chance. Knut was our guide to three different locations and all were terrific. We are photographers rather than twitchers and we left Guatemala with great images of some key birds: Pink-headed Warbler, Orange-breasted Falcon, Ocellated Turkey, plus dozens of other great birds, including three species of motmot and four trogons. Knut is not only immensely knowledgeable, flexible and patient; he is also great company: plenty of laughs along with the birds. For anyone planning a birding trip, or more general nature-oriented trip to Guatemala, there really is no need to look further than CAYAYA BIRDING. Decades of hard work and commitment have made them the absolute leaders for this country."
Kevin Bartlett, Buenos Aires, Argentina. onwildground.com/
---
November 2016, individuelle Rundreise durch Guatemala

"We generally travel independently but had little time to organise a birding trip to Guatemala. Claudia Avendaño & Knut Eisermann organised a fantastic birding trip that met all of our expectations. We birded alone in some places and with guides in others and saw all of our target species and more. Great logistical organisation and Claudia & Knut helped ensure that we did not waste valuable birding time when our flight to Tikal was delayed. Guatemala is a fantastic country and we would thoroughly recommend using CAYAYA BIRDING. Thanks very much Claudia & Knut."
Debbie Pain, UK.
---
August 2016, Quetzal-Tour

"Knut Eisermann has been my guide for two separate tours in the last 3 weeks. One day trip around Antigua, and the other was a 3-day, 2-night tour of Motagua Valley and Biotopo del Quetzal. The goal of the latter trip was to find the Resplendent Quetzal. We found it, and it was amazing! Knut is incredibly knowledgeable about the birds of Central America (and beyond). I didn't get the opportunity to bird with Claudia, but she always responded to my emails, questions and concerns quickly, and always with a "we can make this work", attitude! I am very grateful to these two for an incredible birding experience in Guatemala! Until next time!"
David Schas, Oregon, USA.
---
August 2016, Tagestour von Antigua Guatemala

"Since the first response to my email, I realized that CAYAYA BIRDING was a great find. The information provided and the proposed plan were just what I needed and it all went as expected. The professionalism of Claudia Avendaño was amazing and finding the target species seemed like a routine for her. Besides the great birding, I had a very pleasent time talking about plants, geography and culture."
Esteban Biamonte, Costa Rica.
---
Juli 2016, Tagestour von Guatemala Stadt

"Birded with Knut Eisermann one day in Finca Pilar close to Antigua. Would have to say he is one of the best birding guides I have ever hired. The Guatemalan Pygmy-Owl and the Ocellated Quail were just two of the great birds we saw that day. Without him as a guide I would have found very few birds. I have also birded with Claudia, and they are both great birding guides."
Mike Parker, USA.
---
Juli 2016, Tagestour von Antigua Guatemala

"At first, I didn't know what to expect, but I was taken completely off guard at how great this trip ended up being! Knut Eisermann was my guide, and he is incredibly knowledgeable about the birds of Guatemala (it appears his partner, Claudia Avendaño is as well). It was fun to see a veteran birder get as excited as a kid when finding a bird that he sees almost everyday. I highly recommend CAYAYA BIRDING for any birding experience. I will be going with them again before I go home! They plan everything for you, leaving you with nothing to worry about!"
David Schas, Oregon, USA.
---
April-May 2016, customized 2-weeks birding loop for 6 birders

"In May 2016 five friends and I were guided by CAYAYA BIRDING in western Guatemala and Tikal National Park. This was my second birdwatching tour with Knut Eisermann and Claudia Avendaño (principals of CAYAYA BIRDING) and both trips were truly excellent. Knut and Claudia work together as a smooth team to ensure that everyone's needs are met -- every day of the tour.
An unexpected highlight of the recent trip was spotting a Baird's Tapir in Tikal -- a thrill for everyone!"
Mike Mulligan, Canada.

"I cannot believe the patience you two had for us all!! The different personalities, and abilities in a group can only present some amazing challenges for you...but you both handled them well! This was the most organized group birding trip I have been on! Thank you so much for such a wonderful time visiting and sharing in the life and birds of Guatemala!"
Diane Kook, USA.
---
May 2016, 9-day target trip

"As semi-independent birders who also like to intersperse non birding days, this second trip designed with CAYAYA BIRDING recommendations and complete arrangements, meets and exceeds our requirements (birding with a group has too many challenges; life's too short ;-)"
Byron and Elizabeth Ryono, USA.
---
April 2016, 6-day target trip

"Guatemala + CAYAYA BIRDING = World class birding, a match made in ornithological heaven."
Stuart Millar, Trinidad.
---
February 2016, multiple day trips

"CAYAYA BIRDING provided expert birding, intimate knowledge of the country, and meticulous trip planning."
Gregory Palermo, USA.
---
November 2015, 6-day customized target birding trip, (Tour leader: Knut Eisermann)

"I highly recommend Knut Eisermann as a guide. His ability to spot birds I couldn't see was uncanny. They went above and beyond to get my luggage to me when it missed my flight and arrived later."
David McDonald, Houston, Texas, USA.
---
November 2015, 4-day birding trip in the Pacific slope highlands of Guatemala, (Tour leader: Claudia Avendaño)

"Just finished a 5 day tour of the highlands and lake Atitlan with Claudia Avendaño - It was an amazing experience!! She is so knowledgeable in the birding, but also the culture and history of the region. We can't wait to go again!"
Ashley Meagher, USA.
---
June 2015, 17-day customized target birding trip, (Tour leader: Knut Eisermann)

"CAYAYA BIRDING is outstanding: they not only offer world-class guides, but remarkably comfortable accommodation. They have taken care to ensure good relations with the communities they visit, which means you will not only see a long list of endemics and rarities, but also learn a lot about Guatemala's cultural diversity."
Matthew Koch, Victoria, British Columbia, Canada.
---
April 2015, 9-day birding in the Atlantic slope highlands and lowlands (Tour leader: Knut Eisermann)

"We had a wonderful birding vacation that included fabulous views of birds as well as seeing different parts of Guatemala's country and culture. One of our most fun birding trips!"
Peggy and Gordon Tans, USA and Nicaragua.
---
March 2015, 9-days tailor-made tour for Quetzal Tours, Colorado (Tour leader: Knut Eisermann):

"Had a fantastic time here in Guatemala for my first visit. Would recommend this trip to any good birder wanting to expand there birding into a new location. Looking forward to another trip in the future to this beautiful place being guided by Knut Eisermann and Company. "
Mark Amershek, Denver, Colorado, USA.
---
February 2015, costumized 14-day target tour (Tour leaders: Knut Eisermann and Kevin Easley)

"Things ran very well. "
Larry Peavler, USA.

"It was a great trip with several challenging trails. The birds were sometimes hard to find, but the guides were excellent in all ways."
Eugene Keferl, USA.
---
February 2015, 9-day birding in Pacific slope highlands and Tikal (Tour leader: Knut Eisermann)

"Knut Eisermann is The Man when it comes to birding in Guatemala. He works like the Energizer Bunny - all day and into the night."
Larry Sirvio, Cottage Grove, Minnesota, USA.

"We had 8 great days birding in Guatemala. CAYAYA BIRDING did a wonderful job providing a wonderful and friendly guide, good accommodations and the transportation was really reliable. Thanks Claudia and Knut for organizing the tour for us."
Yolanda Sirvio, Cottage Grove, Minnesota, USA.
---
Dezember 2014 - Januar 2015, 16-tägige Vogelbeobachtungsreise für Bartmeise-Reisen (Reiseleiter: Knut Eisermann & Claudia Avendaño, Reisebericht):

"Die Reise besticht durch eine perfekte Organisation und eine fachlich hoch kompetente Reiseleitung, die den Reisenden darüber hinaus ein familiäres Flair als wesentlichen Wohlfühlfaktor zu geben vermag. Neben der eigentlichen fachlichen Zielstellung kommen auch historische und ethologische Informationen nicht zu kurz. Eine Birding-Tour, die jedem "Birdwatcher" wärmstens empfohlen werden kann. 300 Vogelarten sind garantiert! Auch ist genügend Zeit zur Vogelfotografie."
Klaus und Karin Eulenberger, Leipzig, Germany.

"Ich habe es nicht bereut, Guatemala und seine Vogelwelt mit CAYAYA BIRDING in Kooperation mit BARTMEISE-Reisen kennenzulernen. Ein Geheimtipp, der wohl bald keiner mehr ist, da man beide ruhigen Gewissens weiterempfehlen kann."
Beate Weber, Chemnitz, Germany.

"Nach 2008 wiederholte ich zum Jahreswechsel 2014/15 eine vogelkundliche Reise durch Guatemala - diesmal in anderer Jahreszeit und überwiegend in neue Regionen. Ein zweites mal wurden meine Erwartungen erfüllt. In bewährter Weise boten Claudia Avendaño & Knut Eisermann wieder ein gut vorbereitetes und funktionierendes Rund-um-Paket. Egal ob Unterkünfte & Verpflegung, Transport & Transfer, Insiderwissen zu Land & Leute, fachkundige Erläuterungen zu Vögeln oder medizinischer Beistand - nichts wurde dem Zufall überlassen. Während Knut für besonders hungrige Beobachter auch noch in der "Freizeit" optionale Exkursionen anbot, konnte ich Claudia immer wieder beobachten, wie sie zwischen den einzelnen Aufenthaltsorten unermüdlich die nächste Station abcheckte, damit bei unserer Ankunft alles klappte. Da beide kontinuierlich an der Erschließung neuer Zielgebiete arbeiten, sind weitere interessante Entdeckungsreisen sowohl für Neulinge als auch für Kenner in Aussicht gestellt. Ich freue mich auf ein weiteres Wiedersehen - Herzlichen Dank Claudia & Knut für diese unvergessliche Zeit!"
Birgit von Lienen, Chemnitz, Germany.


---
December 20114, 11-day birding tour focused on target birds (Tour leader: Knut Eisermann)

"Our guide, Knut Eisermann was EXCELLENT!!! I was impressed by his bird knowledge, phenomenal eyes and ears, and on how well he took care of us. He was charming at all times, attuned to all of our needs both birdwise and otherwise, and extremely patient and considerate. He is lightning-fast on getting a bird in the scope! He is also a very safe driver. We had a delightful time. Claudia Avendaño was very prompt on her responses to all of our queries. Her pre-trip information was comprehensive and very clear. I would highly recommend that anyone interested in birding Guatemala contact them first. "
Lorna L. Engleman, MD, and Dodge Engleman, MD, San Antonio, TX.
Co-authors of: A bird-finding guide to Panama.
---
April-Mai 2014, 16-tägige Vogelbeobachtungsreise für Bartmeise-Reisen (Reiseleiter: Knut Eisermann, Reisebericht):

"Als ich von BARTMEISE-REISEN das Angebot für eine 16-tägige vogelkundliche Reise durch Guatemala erhielt, habe ich mit der Buchung nicht lange gezögert. Der Reiseablauf sowie die umfangreichen Informationen auf der Homepage des örtlichen Reiseunternehmens CAYAYA BIRDING haben mich davon überzeugt, dass es sich um eine außergewöhnlich attraktive Erkundungstour handelt. Gemeinsam mit weiteren drei Ornithologen habe ich mich vom 25. April bis 10. Mai 2014 in die Obhut unseres Reiseleiters Knut Eisermann begeben. Rückblickend kann ich feststellen: Diese vogelkundliche Reise hat meine Erwartungen in jeder Hinsicht übertroffen. Die Gesamtorganisation war hervorragend und die Auswahl der Hotels und Lodges entsprach den Vorstellungen. Der Reiseverlauf berücksichtigte unterschiedliche Lebensräume und schuf somit gute Voraussetzungen, um zahlreiche und zum Teil auch seltene Vogelarten beobachten zu können. Am Ende der Reise standen beachtliche 356 Arten auf der Gesamtliste. Diese Bilanz ist vor allem Knut Eisermann zu verdanken, der nicht nur hervorragende Kenntnisse über die Vogelwelt Guatemalas besitzt, sondern auch ein exzellenter Beobachter ist. Beeindruckend war dabei insbesondere seine Sicherheit, mit der er auch seltene Vogelarten im dichten Regenwald aufspürte. Knut Eisermann habe ich nicht nur als einen begeisterten Ornithologen kennen gelernt, sondern zugleich als einen engagierten Anwalt in Sachen Natur- und Artenschutz. Seine liebenswürdige und umsichtige Betreuung gehört neben den außergewöhnlichen Eindrücken über das Land - einschließlich der zahlreichen faszinierenden Naturerlebnisse - zu den unvergesslichen Erfahrungen dieser Reise. Guatemala war für mich ein Erlebnis der besonderen Art. Für Ornithologen und natürlich auch für Naturfreunde mit anderen Interessengebieten ist dieses Land ein beachtenswerter Geheimtipp!"
Peter Tischler, Halle (Saale).

"Ich kann die Reise jedem Orni empfehlen, der sich intensiv mit der Vogelwelt Guatemalas vertraut machen will. In zwei Wochen bekommt man die wichtigsten, meist sogar seltensten und zudem überwiegend farbenprächtigen Vögel des Landes gezeigt. Ich hatte nie das Gefühl bedroht zu sein, eine Gefährdung für mich konnte ich im ganzen Land nirgends erkennen."
Reinhard Möckel, Sonnewalde.

"Die Neotropis, als vogelreichste Region der Erde, sollte jeder Ornithologe einmal besucht haben. Einen besonderen Stellenwert nimmt dabei Mittelamerika ein, da hier alle weitreisenden Zugvögel Nordamerikas auf schmalem "Pfad" durchziehen. Ganz besonders empfehelnswert ist dabei Guatemala mit seinem exzellenten Guide-Paar Knut Eisermann und Claudia Avendaño."
Volker Löschner, Bornsdorf.
---
April 2014, 11-days tailor-made tour for seeing special birds of northern Central America (Tour leader: Knut Eisermann):

My experience in Guatemala could not have been better. Knut Eisermann is a very accomplished guide who knows the birds beyond field guide information.
Mark Lockwood, Alpine, TX, USA.
Senior author of: The TOS Handbook of Texas Birds, Second Edition

A fantastic tour! Very well-organized, with friendly, enthusiastic, and expert guides that knew where to find the birds we wanted to see. They made sure we were well taken care of, and they worked hard to ensure that everyone in our group saw the birds we were targeting. All lodging was highly satisfactory and we never missed a meal. Extremely pleasant and highly recommended!
Paul Sunby, Austin, TX, USA.
---
March 2014, 9-days tailor-made tour for Quetzal Tours, Colorado (Tour leaders: Knut Eisermann & Claudia Avendaño):

This trip is a must for any avid bird watcher that loves to experience beautiful birds and nature while hiking through beautiful countryside. This trip had a perfect blend of bird watching, flora and fauna and culture. The guides Knut Eisermann and Claudia Avendaño are superb!
Karen Hopf, USA.

I was pleased with every component of this tour.
Warren Bilkey, USA.
---
December 2013, 9-days tailor-made tour for Quetzal Tours, Colorado (Tour leader: Knut Eisermann):

I highly recommended CAYAYA BIRDING! My trip to Guatemala was the birding trip of a lifetime for me. It was relaxing and fun and I was astonished by the number of birds I was able to observe in 6 days. Our guide, Knut Eisermann, was fabulous! He had keen senses and in-depth knowledge of the local birds. He was able to get a scope focused on hard to see birds in a flash! Knut is not only an outstanding bird guide, but also has an easy going personality with a great sense of humor. The trip was very well organized and went smoothly, despite weather-related flight cancelations that got us to Guatemala City a day later than originally planned.
Melannie Hartman, USA.
---
April 2013, 12-days tailor-made tour for seeing special birds of northern Central America (Tour leader: Knut Eisermann):

A great trip with an excellent guide. Our trip went smoothly and we saw more speciality species than we expected.
Dave Sargeant, Thailand (Trip report).

We found Knut Eisermann an extremely knowledgeable, enthusiastic, patient and attentive leader. He knows the birds, the locations, the people. He involves local guides that he trained himself wherever possible - we were impressed by this. His sense of humour is also an asset.
Ian D. Harrison, Aberaeron, UK.
---
February 2013, 9-days tailor-made tour for Quetzal Tours, Colorado (Tour leaders: Knut Eisermann and Claudia Avendaño):

It was a delightful trip from beginning to end. Communication was clear in the planning stages and throughout the entire trip; we were met directly outside the Guatemala City airport upon arrival; we had good accommodations and transportation and great food. And, most especially, Knut Eisermann and Claudia Avendaño were 'over-the-top' birders! We loved their total friendliness and cheerfulness and their skills at hearing, seeing and identifying Guatemalan birds was amazing. The whole experience was so enriching and enjoyable that it makes us want to return for more!
Ann and John Reichhardt, Colorado, USA.

My expectations for the trip were filled far beyond my expectations. There was never a moment when I was not emersed in the culture of Guatemala or its environment. From sun-up to sun-down. I never expected to be as totally engaged as I was and still am.
Rita R. Kelley, Colorado, USA.
---
March 2012, 9-days tailor-made tour for Quetzal Tours, Colorado (Tour leader: Knut Eisermann):

Birding with Knut Eisermann and Claudia Avendaño is a double benefit. Not only do you get the best birding experience and expertise, but you are also supporting conservation and habitat/ecological awareness efforts through their programs with locals. Teach the local people about birds, employ them as paid citizen scientists, increase awareness about caring for the earth and support the local economy.
Ruth Stewart, Vermont, USA.

Knut Eisermann and Claudia Avendaño make an ideal team: she covers office duties, is gracious and thorough as a client liaison, and is a good-humored and skillful guide when she gets out to bird. Most importantly, she is an excellent listener, a highly valued skill when dealing with tourists from many places, all with their special "needs." Knut is CAYAYA BIRDING's expert in the field: driver, translator, cultural explainer, and feather-smoother when there is friction. Of course, he is an ace at wildlife spotting and identification (in several languages). It does not hurt that he also has a wonderful sense of humor, a broad European education, and a refreshingly modest sense of self. (What a welcome break from being guided by some bird experts with their enormous egos!) He is sensitive to client needs at every turn, and his quick-draw scope set-up was a marvel.

Furthermore, when we asked about Culture, Ethnicity and Politics (all potential landmines for a guide), Knut had just the right touch: he was able to create even more interest in us with his very subtle take on all these questions. We came home curious to learn more.

CAYAYA BIRDING is very careful with client safety; we were happy that they took advantage of Guatemala's "park police escorts," who, while usually quite young, were punctual, reliable, and at least looked dauntless as they followed or accompanied us here and there off the beaten track. We felt that this was another way of showing Guatemalans that tourists value the natural world they have in abundance; and that most of us want to see old-growth forest surviving in their country.

We much admired CAYAYA BIRDING's effort to find and train locals to carry on and expand the mission of conservation throughout the country. Their Christmas Bird Count is a marvel of determination and organization: one that many Audubon chapters in the U.S. might envy (and not just because of the exotic birds).

Visit Guatemala - the endemics are sensational; and the experience as varied, colorful and rich as any you will find elsewhere in the Southern Hemisphere.
Linda and Jean-Pierre Georges, Colorado, USA.
---
August 2011, Booking of services for independent travelers (hotels, transportation, local guides):

We have just returned home from Guatemala and I wanted to send you a note to express how thoroughly we enjoyed our travels in your country: our trip was everything and more than we had imagined and wished for!! We feel fulfilled by the beauty of the land and the kind spirit of the people. We are extremely grateful for your help in making our trip come together; every service which you arranged for us was wonderful, without exception.

By far, the absolute best part was your wonderful guides: Josué and Luis!! At our request, our tours with them were conducted in Spanish. They taught us so very much, generously sharing their knowledge and expertise, as well as their love for nature, community and their homeland. They listened to our interests and fine-tuned the touring for our needs. They were patient and professional and fun.

The drivers were all professional, punctual and conscientious about our safety and comfort.

Guatemala is now in our hearts! Thank you, Claudia.
Laura Werner and Joe Rivera, USA.
---
June 2011, Booking of services for independent travelers (hotels, transportation, local guides):

My Wife and I used CAYAYA BIRDING to arrange all of our ground transportation, lodging and guides for our trip to Tikal, Guatemala. Claudia Avendaño was wonderful to work with and everything from the van driver to our birding guide Luis were absolutely top notch. The trip was an outstanding experience. I would give my highest recommendation to CAYAYA BIRDING for anyone traveling to Guatemala.
Russ Roundy, Spokane, Washington.
---
March 2011, 21-days tailor-made tour focused on bird photography (Tour leader: Knut Eisermann):

Für eine Reise nach Guatemala nur zu empfehlen!
Peter Wächtershäuser (Bad Homburg) www.naturlichter.de
---
September 2010, birding tour with local bird guides:

If birding in Guatemala CAYAYA BIRDING is your best bet!
Augusto Faustino (Portugal).
---
November 2010, birding tour incl. Pacific and Atlantic slope highlands, and Tikal (Tour leader: Knut Eisermann and local guides):

My wife, Becky, and I recently spent two weeks birding and travelling in Guatemala with another couple where we used CAYAYA BIRDING for logistical support and bird guiding. We were extremely pleased with both aspects including the local guides that they have identified and mentored. Knut Eisermann and Claudia Avendaño are developing the birding eco-tourism industry in Guatemala and we would highly recommend them to any groups or independent birders considering a trip.
Jim Carlson (Eugene, Oregon, USA).
---
1-9 May 2010, Tikal and Pacific slope highlands:

We were particularly impressed with the knowledge and professionalism of our guides Claudia and Luis. We particularly appreciated the time that they took to drive us around and to explain to us the history and the many cultures of Guatemala. We feel that we had a very personalized trip and picture of Guatamala. A very special adventure.
Anita and Marlin Jones (Sidney, British Columbia, Canada, and McCall, Idaho, USA).
---
15-25 April 2010, customized hummingbird tour (Leader: Claudia Avendaño and Knut Eisermann):

Claudia Avendaño was great in helping us set up our tour. She asked us questions that helped us to have a better tour. Claudia greeted us at the airport upon arrival and was our tour guide the first afternoon. We had a leisurely afternoon as far as hard core birding goes, however, when the afternoon was over Claudia had already found over twenty birds that was on our target list. Not to mention, countless of other birds that was not on our list. Claudia was fun to be with, enthusiastic, patient, and a great birder.

The next morning we were met by Knut Eisermann at our hotel. Knut too was a joy to be around, and a fantastic birder. Knut always had energy to spare of which we could have used a little of his at times. Knut knew where to look for targeted birds. He recognized them instantly by sound, and sight, and was good at directing us so we could see them. His skills with his spotting scope were commendable. Knut also has a wide set of natural history skills outside of birds that anyone should take advantage of. Knut's people skills were as good as his birding skills. Whether you are looking for target species or just interested in a general birding tour. We strongly recommend CAYAYA BIRDING Tours.
Gretchen and Stanley Jones, Bryan, TX, USA.
---
24 December 2009 - 1 January 2010, Tikal and Pacific slope highlands (Leader: Knut Eisermann):

Great birds, great scenery, great food, great trip. My son and I had a wonderful and memorable time. Knut Eisermann and Claudia Avendaño did an excellent job for us, and we hope to visit Guatemala with them again soon.
Iain Ewing (Ewing Communications), Singapore.
---
27 December 2009 - 5 January 2010, Pacific slope highlands and Tikal (Leader: Claudia Avendaño):

Claudia Avendaño organised our trip perfectly. We had some terrific birding in the highlands and at Tikal, with a good insight into the highland region and the chance to explore the great ruins at Tikal. We should have stayed longer!
Marcus I'Anson, Uxbridge, Middlesex, UK.
---
11-17 November 2009, Pacific and Highland Endemics Tour with CAYAYA BIRDING (Leader: Claudia Avendaño):

In the short period of five days, Claudia and Josué showed me 135 bird species around Antigua, at Tecpán and at Los Tarrales, including Pink-headed Warbler, Tody Motmot and lots of hummingbirds, many species that are difficult to find anywhere but in Guatemala. If one includes a tour to the Atlantic slope, which I did not do, Guatemala is a good alternative to visiting Costa Rica. I liked particularly how CAYAYA BIRDING collaborates with Los Tarrales to bring sustainable agriculture, nature conservation, ecotourism and ornithological science together.
Hans-Ulrich Bernard, Irvine, CA, USA.
---
September 1-7, 2008, Pacific Slope and Highland Endemics Tour with CAYAYA BIRDING (Leader: Claudia Avendaño):

"My husband Herman D'Entremont and I had a wonderful introduction to Guatemalan birds and culture which we describe in detail at http://theworld.com/~eva/guatemala.html. In short, Herman got thirty-some life-birds and I got nice avian photo-ops. We were safe and comfortable and well fed throughout the week, and we met great people. Herman has a few disabilities which CAYAYA BIRDING accommodated beautifully. Two thumbs way up!"
Eva Casey, Somerville, MA, USA.
---
26 April - 12 May 2008, IV Große VSO-Reise Siehe Reisebericht (Reiseleiter: Knut Eisermann und Claudia Avendaño):

"So stelle ich mir eine vogelkundliche Reise durch ein Land vor!"
Hartmut Meyer, Geschäftsführer, Verein Sächsischer Ornithologen, Hohenstein-Ernstthal.

"Die Reise war sehr gut geplant und dank der prima Vorbereitung klappte alles hervorragend. Das betrifft die Auswahl der Quartiere und Gaststätten und natürlich ganz besonders auch der unterschiedlichen Lebensräume. Beeindruckend war, mit welcher Sicherheit die gesuchten Vogelarten auch wirklich gefunden werden konnten. Auch der kulturelle Rahmen war gut abgesteckt, so wurden uns Einblicke in die Geschichte und Kultur des Landes ermöglicht. Ich kann und werde solcherart ornithologische Erkundungsreisen jederzeit weiterempfehlen. " Siehe Reisebericht
Klaus Fabian, Dresden.

"Diese Reise, die durch Knut Eisermann und Claudia Avendaño (CAYAYA BIRDING) speziell für die Vereinsmitglieder des VSO e.V. organisiert und durchgeführt wurde, habe ich mit der Erwartung angetreten, Einblicke in die Vogelwelt des mittelamerikanischen Staates zu erhalten, aber auch Land und Leute kennen zu lernen. Hinzu kommt mein ganz persönliches Interesse, die Aktivitäten, die unserer Freunde Knut und Claudia für den Naturschutz und für die Maya-Bevölkerung leisten, einmal direkt vor Ort, und nicht nur durch Vorträge in Deutschland zu erleben. Meine Erwartungen wurden durch das Erlebte übertroffen. Die Reise wird für mich ein unvergesslich schönes Erlebnis bleiben. Knut Eisermann - aus Chemnitz stammend - ist durch seinen mehr als 10-jährigen Aufenthalt in Guatemala zu einem absoluten Kenner sowohl der guatemaltekischen Avifauna als auch der durchziehenden Arten aus Nordamerika geworden. So erhielten wir zu allen gesehenen Vögeln eine fachkundige Erklärung über Unterscheidungsmerkmale und Verbreitung der jeweiligen Art. Die Erklärung erfolgte sowohl im Bestimmungsbuch wie auch am Vogel selbst. Gemeinsam mit Claudia Avendaño führt er unter Einbeziehung der einheimischen Bevölkerung langfristige Vogelmonitoringprogramme in ganz Guatemala durch. Das Vertrauensverhältnis, das Beide dabei zu den Mayas aufgebaut haben, durften wir durch Einblicke in das Leben der Q'eqchi' Maya auf unserer Reise erleben. Unvergesslich auch die Führung durch den Tikal Nationalpark, der mit seinen Maya-Pyramiden inmitten endlosen Regenwaldes seit 1979 zum UNESCO-Weltkulturerbe gehört. Zusammengefasst: Die Reise war von der Begrüßung bis zur Verabschiedung am Flughafen Guatemala-City perfekt und liebevoll organisiert und durchgeführt. Vielen Dank Claudia und Knut! " Siehe Reisebericht
Dieter Kronbach, Limbach-Oberfrohna.
---
28 December 2007 - 3 January 2008, Customized Birding Tour with CAYAYA BIRDING (Leader: Knut Eisermann):

"Claudia Avendaño and Knut Eisermann organized a one week custom tour for Pacific slope bird specialties and the cultural attractions of colonial Antigua and Lake Atitlán. Knut was an outstanding guide and personable companion. His knowledge of the birds is encyclopedic, and his sharp eyes and perseverance were greatly appreciated." See trip report
Robert Orenstein, Atlanta, Georgia, USA.
---
May 2007, 5 days birding tour focused on regional endemics with CAYAYA BIRDING (Leader: Knut Eisermann):

"In 2005, my wife and I went to Guatemala on holiday for a week in November. During that trip, we arranged a 3 day birding trip with CAYAYA BIRDING to look for the Horned Guan. We had a very successful (albeit very strenuous) hike up the side of Volcano Atitlan, the highlight of which was prolonged looks at two Horned Guans looking back at us. I was very impressed with everything about Knut Eisermann, co-owner, chief cook and bottle washer for CAYAYA BIRDING. He is a brilliant field ornithologist, a great logistician and an all-around very pleasant fellow. Thus when business took me back to Guatemala in May 2007, I pre-arranged a 5 day trip with Knut once again. My goal this time was to look for Resplendent Quetzals and look for highland rainforest owls." See trip report
Alan van Norman, Bismarck, North Dakota, USA.
---
May 2007, 5 days birding tour focused on regional endemics with CAYAYA BIRDING (Leader: Knut Eisermann):

"I thought the tour was very well organized. Knut Eisermann is a very good bird guide and knows the birds very well. The places we stayed were wonderful."
Patty O'Neill, Milton, MA, USA.

"I found Knut Eisermann knowledgeable and full of energy. We found birds efficiently. The accommodations were good and the food excellent."
Bob Walton, USA.
---
April 2007, 8 days birding tour focused on regional endemics with CAYAYA BIRDING (Leader: Knut Eisermann):

"Until recently, I'd never thought too much about birding Guatemala. Our trip with Knut Eisermann has convinced to return as soon as possible and see more of this fascinating country. Experiencing the Mayan culture and the fabulous birds in the mountains is something I'll never forget. Having traveled with other birding companies, I'd have to recommend CAYAYA BIRDING over the others for personal service and effort given to show us every possible species. A truly remarkable experience. "
Howard King, Riverside, CA, USA.

"Knut Eisermann and Claudia Avendaño are amazing.....we told them what we wanted to see and they planned a perfect itinerary. We saw almost all of our target birds! Can't wait to do another trip with them! "
Lori Conrad, Hermosa Beach, CA, USA.
---
March 2007, 10 days birding tour with CAYAYA BIRDING (Leader: Knut Eisermann):

"CAYAYA BIRDING did a great job for us and was outstanding both in terms of the birding and the logistics of the trip. Knut Eisermann and Claudia Avendaño, who run CAYAYA BIRDING together, are deeply knowledgeable about the avifauna of Guatemala, are great birders and organized everything without a hitch. They are working hard surveying the birdlife in Guatemala, developing birding and eco-tourism through local lodges such as Los Tarrales, and exposing Guatemala as a first rate birding destination with marquee species that may be found more easily in Guatemala than in any other area. We would heartily recommend them for anyone interested in birding in Guatemala." See trip report
Jeffrey F. Peters, Weston, MA, USA.
---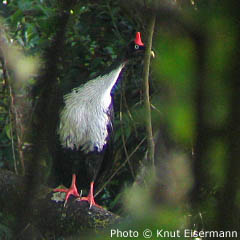 March 2005, 3 days customized birding tour in Guatemalan highlands with CAYAYA BIRDING (Guide: Knut Eisermann):

"Guatemala was a pleasant surprise: perhaps two well-kept secrets should be dispelled now. 1. There is a good tourist infrastructure, better than expected, with comfortable accommodation and decent roads. 2. There is a knowledgeable local birder (Knut Eisermann) who can show you all the birds, including Horned Guan (see photo), Azure-rumped (Cabanis') Tanager and Blue-throated Motmot. Anyone interested in wildlife or Mayan culture will not be disappointed. For the serious birder, there is the chance to see some rare species not easily seen elsewhere in Central America. There should be no reason to put off a trip to Guatemala: start your planning now."
Geoff Dobbs, County Bird Recorder, East Yorkshire, UK.
---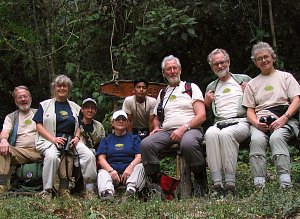 February 2005, 17 days customized birding tour with CAYAYA BIRDING:

"We were 6 senior Danes, however still quite venturous and with great love for nature, some of us especially keen on birds. We found CAYAYA BIRDING on the internet which we never regretted. We got the most excellent service with regard to planning a trip quite according to our wishes and with their professional advice. More than 300 birds were seen during the 17 days we spent in Guatemala. Knut Eisermann has a talent for spotting, hearing, and recognizing everything. And for our guidance he was carrying these very heavy field guides all the time, so that he could at once show us in the books the birds in question and point out their characteristics. We learnt a lot, and we loved all the sites on the trip. As an extra service, Claudia Avendaño joined us during the trip to Monterrico, because of the small boats where we had to split up in two groups. They wanted us to have a guide on each boat - isn't that service ! And it was nice for us to get this opportunity to meet Claudia, who had done so much work for us in planning our trip, not only in Guatemala, but also in El Salvador, where we were going afterwards. The tour with Knut and Claudia was quite exceptional, not only because of their professional competence and their ability to take care of our well-being, but also because of their great sense of humour which meant that we enjoyed their company so much." See trip report by Kirsten Geertz-Hansen
Kirsten Geertz-Hansen, Farum, Denmark.
---
February 2005, 6 days birding in Petén with CAYAYA BIRDING (Guide: Claudia Avendaño):

"Claudia Avendaño's expertise and hospitality is a joy and I can only recommend bird-watching with her. You will not only see the birds but also improve your identifying the different calls. I shall definitely tour with them again!"
Eva Kiefer, Zurich, Switzerland.
---
November 2004, 6 days birding in southern highlands and Guatemalan south coast with CAYAYA BIRDING (Guide: Knut Eisermann):

"I was looking for a birding tour to take in November 2004. I scanned the birding tour companies and I came across CAYAYA BIRDING. The website is maintained by Knut Eisermann, the co-owner and tour guide. Knut has put a tremendous amount of work into the site. In addition to the normal information, he has included area descriptions, bird species list for each area and much more useful information. The tour was a customized one: we visited pine and oak forests, dry forest, coastal areas, coffee plantations and some highlands. The birding was outstanding as was the guide. Knut is a wonderful guide as his knowledge of the birds and their songs is remarkable. The CAYAYA BIRDING staff had all the logistics worked out well and the entire trip was a great success. In short, I had a great time birding in Guatemala. Thanks Knut."
Jerry Miller, Simi Valley, California.
---
January 2004, 4 days birding in Los Tarrales with CAYAYA BIRDING (Guide: Claudia Avendaño):

"Claudia Avendaño was very professional, and both her range and depth of ornithological knowledge were appreciated by our tour members. Claudia patiently explained to our two neophyte birders about "What to look for first," and simultaneously excited our experienced "birder" about the subtleties of both visual and audio identification. Further, our guide's commitment to training Guatemala's indigenous peoples about long-run resource management was plainly evident in her interaction with our "local" guides. All your promised tour services were delivered promptly and with courtesy. We have recommended CAYAYA BIRDING to two Guatemalan families and our US friends at home." See trip report
Steve and Liz Welch, Wakefield, Road Island, USA.
---
November 2003, 3 days birding in Los Tarrales with CAYAYA BIRDING (Guide: Claudia Avendaño):

"We found CAYAYA BIRDING to be professional, flexible, and thorough. Claudia Avendaño provided us with excellent birdwatching as well as information on flora and fauna. The accommodations at Los Tarrales were adequate and comfortable and the food was good. We were able to see a working coffee plantation as well as an exotic plant farm. We even met the schoolteacher on the finca and enjoyed watching the children."
David Cole and Betty Slade, Westport Point, Massachusetts, USA.
---
April 2003, Natur- und Foto-Tour mit CAYAYA BIRDING (Reiseleiter: Knut Eisermann & Claudia Avendaño):

" 3 Wochen CAYAYA BIRDING heißt:
Natur- und Kulturerlebnisse pur.
180 beobachtete Vogelarten unter fachlich kompetenter Führung.
Ornithologisch Super- 1A Kenntnisse vor allem der Vogelstimmen.
Familiäres Ambiente rund um die Uhr.
Hautnahes Erleben verschiedener Naturschutz- Projekte der beiden Initiatoren.
Kennenlernen einer intensiven Zusammenarbeit mit der indigenen Bevölkerung, die vor allem beim Vogel- Monitoring auf fachlich hohem Niveau erfolgt.
Wir danken CAYAYA BIRDING für 3 erlebnisreiche Wochen. Wir hoffen, dass Eure Arbeit im Bereich des Naturschutzes Erfolg hat, damit "Quetzal & Co" weiterhin durch die Regenwälder fliegen." Reisebericht
Yvette Glass, Ulrich Schuster, Wiebke Schuster (Chemnitz).
---
März 2003, 12 Tage Naturreise mit CAYAYA BIRDING (Reiseleiter: Knut Eisermann & Claudia Avendaño):

"Wir haben mit Claudia Avendaño und Knut Eisermann 12 Tage lang eine sehr spannende, sehr dichte und sehr liebevoll vorbereitete Tour durch die wichtigsten Regionen Guatemalas erlebt, bei der keine Frage unbeantwortet blieb und alles bestens geklappt hat. Dabei waren wir immer bestens untergebracht in sorgfältig ausgewählten Quartieren außerhalb der großen Touristenpfade. Beide überzeugen durch ihre souveräne wissenschaftliche Sachkenntnis sowohl in kulturellen als auch in ökologischen und landeskundlichen Fragestellungen als auch durch ihr Engagement für ihre spannenden Projekte. Dabei ist gleichzeitig ihre unaufdringliche, aber immer aufmerksame Art der Vermittlung hervorzuheben. Wir haben uns immer sicher, gut betreut und bestens versorgt gefühlt, die landesübliche Verpflegung war immer sehr gut und bekömmlich. Die CAYAYA BIRDING homepage ist keine Übertreibung."
Vera Luthardt und Günther Vahrson, (Fachhochschule Eberswalde).
---