Endemiten des Hochlands
Eine kurze Reise mit Schwerpunkt auf der Vogelbeobachtung zwischen Guatemala Stadt und Atitlán-See. Gute Möglichkeit zur Beobachtung vieler endemischer Arten den Hochlandes des nördlichen Mittelamerikas, wie den Rosenwaldsänger und die Cabanistangare.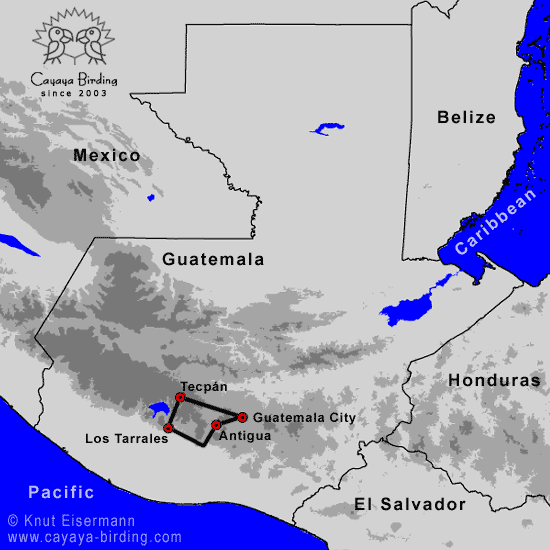 6 Tage / 5 Nächte.
Beobachtungsgebiete: Antigua Guatemala, Tecpán, Los Tarrales.
Spezialitäten des Hochlandes wie dem Buntschwanzdegenflügel, Grünkehlnymphe, Abeillekolibri, Guatemalagoldspecht, Blaukehlmotmot, Rostkehlzaunkönig, Rotnackendrossel, Lasurspottdrossel, Rosenwaldsänger, Cabanistangare, Weißwangenammer, Bindentrupial, und andere.
Arten den pazifischen Tieflandes: Weißbauchguan, Gelbnackenamazone, Blauschwanzamazilie, und Langschwanzpipra.
Reiseveranstaltung Januar bis Dezember.
Unterkunft in komfortablen Hotels und Lodges.
Optionen
Exkursion in den Lebensraum des Zapfenguans.
Kaffee-Tour: ca. 1 Stunde, am interessantesten während der Erntezeit (November bis Januar).
Geführte Tour Ornamentalpflanzen (Heliconia, Anthurium etc.).
Besuch eines Marktes am Atitlán-See.
Kommentare
24 December 2009 - 1 January 2010, Tikal and Pacific slope highlands (Leader: Knut Eisermann):
Great birds, great scenery, great food, great trip. My son and I had a wonderful and memorable time. Knut and Claudia did an excellent job for us, and we hope to visit Guatemala with them again soon.
Iain Ewing, Singapore.

11-17 November 2009, Pacific and Highland Endemics Tour with CAYAYA BIRDING (Leader: Claudia Avendaño):
In the short period of five days, Claudia and Josué showed me 135 bird species around Antigua, at Tecpán and at Los Tarrales, including Pink-headed Warbler, Tody Motmot and lots of hummingbirds, many species that are difficult to find anywhere but in Guatemala. If one includes a tour to the Atlantic slope, which I did not do, Guatemala is a good alternative to visiting Costa Rica. I liked particularly how Cayaya Birding collaborates with Los Tarrales to bring sustainable agriculture, nature conservation, ecotourism and ornithological science together.
Hans-Ulrich Bernard, Irvine, CA, USA.

September 1-7, 2008, Highland Endemics Tour (Leader: Claudia Avendaño):
"My husband Herman D´Entremont and I had a wonderful introduction to Guatemalan birds and culture which we describe in detail at http://theworld.com/~eva/guatemala.html. In short, Herman got thirty-some life-birds and I got nice avian photo-ops. We were safe and comfortable and well fed throughout the week, and we met great people. Herman has a few disabilities which Cayaya Birding accommodated beautifully. Two thumbs way up!"
Eva Casey, Somerville, MA, USA.

28 December 2007 - 3 January 2008, Highland Endemics Tour
"Claudia Avendaño and Knut Eisermann organized a one week custom tour for Pacific slope bird specialties and the cultural attractions of colonial Antigua and Lake Atitlán. Knut was an outstanding guide and personable companion. His knowledge of the birds is encyclopedic, and his sharp eyes and perseverance were greatly appreciated." See trip report
Robert Orenstein, Atlanta, Georgia, USA

March 2005, Highland Endemics Tour
"Guatemala was a pleasant surprise: perhaps two well-kept secrets should be dispelled now. 1. There is a good tourist infrastructure, better than expected, with comfortable accommodation and decent roads. 2. There is a knowledgeable local birder (Knut) who can show you all the birds, including Horned Guan (see photo), Azure-rumped (Cabanis') Tanager and Blue-throated Motmot. Anyone interested in wildlife or Mayan culture will not be disappointed. For the serious birder, there is the chance to see some rare species not easily seen elsewhere in Central America. There should be no reason to put off a trip to Guatemala: start your planning now."
Geoff Dobbs, County Bird Recorder, East Yorkshire, England.

Weitere Kommentare ...
---